WEST LONG BRANCH, N.J. – In this second decade of the twenty-first century, minorities are still not represented equitably, in proportion to the majority of the roles filled by Americans described as Caucasians. The entertainment industry has made strides to become more universal in its casting and storytelling in TV, film and theater, but has a long way to go to achieve the balancing of these scales.
Two River Theater, a professional, non-profit regional theater in Red Bank, N.J. hopes to be a source of initiating this change. The theater has been building a relationship with the surrounding Latino community for several years. It has welcomed ESL (English as a Second Language) classes to see shows and opened its library to conduct ESL classes. Two River has produced plays that have Spanish influence, such as this season's Pinkolandia, and has more upcoming in future seasons.
Currently, Two River is calling out to all who identify themselves as Latino or Latina, and invites those who fit this category to a special workshop that will take place on April 26. This free program was the vision of the theater's Artistic Director, John Dias, and Managing Director, Michael Hurst.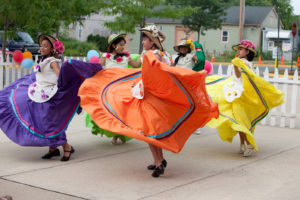 This unique venture is in its initial stages, but it looks to expand toward subsequent storytelling workshops led by award-winning playwright, Tanya Saracho (also a writer on TV's "Girls," "Looking" and "Devious Maids") and director Jerry Ruiz (curator of Two River's annual Crossing Borders festival of new Latino plays and free community programs). The development of these workshops will culminate into a play, produced by all those involved and held on location in Red Bank.
Saracho and Ruiz's residency at Two River Theater was made possible through a generous grant from the Doris Duke Charitable Foundation. The goals for this series of workshops geared towards the Latin community are interwoven as such: 1) educate the participants on the process of creating a theater production, 2) increase their awareness and interest in theater, 3) provide a basis of confidence and tools in being an active theater creator and a sustaining lifelong members who will be able to enjoy and appreciate the many varied stories that generate from what the theater can offer (not just Latino centered stories).
Saracho is the most fitting advocate to lead the Latin community – as she leads by example. Being born in Sinaloa, Mexico and raised on the Texas/Mexico border, she has secured a name for herself in the theater realm. She founded and ran Teatro Luna for a decade. Teatro Luno is a theater company in Chicago that was made up solely of Latinas. Saracho was named "Best New Playwright of 2010" by Chicago Magazine.
In an interview with MyLifetime's online site, Saracho observes that the Latin voices are not receiving their fair share of representation stating, "I don't truly find myself represented … My family histories are not explored and that is a travesty. How can we leave out the stories of such a large portion of the population?"
Jerry Ruiz has an extensive background in theater, and has been involved with projects such as: Basilica by Mando Alvarado at Rattlestick Playwright's Theater, Philip Goes Forth for the Mint Theater Company, developed work at Second Stage, Playwright's Horizons, Soho Rep, and various other works. Ruiz was the recipient of the 2009-2011 NEA/TCG Career Development for Directors Grant, and in 2011 he earned the Phil Killian Directing Fellow title at Oregon Shakespeare Festival.


Ruiz's collaboration with Two River Theater as the Curator of the play series, Crossing Borders, began in 2010. In 2013 the elaborate festival accompanying the Crossing Borders production took place on Aug. 15-18, which hosted new plays by Latino writers Mando Alvarado, Bárbara Colio, Christopher Oscar Peña and Tanya Saracho. There was a neighborhood celebration with free events, readings, music and food donated by local restaurants.
In its vitalizing new efforts to reboot theatrical interest and to entice the surrounding Latin American communities, the theater is keeping its doors open wide for a series of these prolific workshops. With the approaching session, the establishment aims to be a voice and a home for those who may feel voiceless. To see more information about the theater or its upcoming productions/news, visit their website.