WEST LONG BRANCH, N.J. – In Nov. 2012, the four piece metal/punk band, "The Greatest Virtue," from Brick Township, N.J. was conceived. The band consists of Dan Cimino (Vocals/Engineer), and brothers Dan (Drums), Bill (Guitar) and Rick (Bass) Smith. Their debut EP, "Creations" came out in Dec. 2012 and they played their first live show Jan. 19, 2013 at the Brighton Bar in Long Branch. They are currently working on their latest record "Atlas of Life," expected to be released in late June 2014, if not sooner.
Cimino met Dan and Bill at the 2011 Warped Tour. He didn't meet Rick until their first time hanging out at the brothers' house in early 2012, where the band was formed. The group fused after the Smith brothers' previous band (A Shot At Nothing) had a falling-out with a few of their members. They were in need of a new vocalist to jam with and Cimino had made a post on Facebook about seeking a group. They made it work and they have been together since. What follows is a breakdown of the band, in a "FAQ" format, based on an exclusive interview done in person by Shawn McBride with band members Dan Smith and Dan Cimino.
So who is the Greatest Virtue? Where did the name come from?
Dan Smith: "Rick came up with the band's name in a class where they were discussing virtues. He texted me saying 'I've got our band name: The Greatest Virtue,' and it just stuck. And what we like about The Greatest Virtue is that it is not defined, but subjective. The Greatest Virtue is whatever you want it to be. For the most part, it just poses the question to the listeners: what is your greatest virtue? What do you think reigns supreme over the virtues in your life? It's a question that helps the band become more personal and relatable to our audience."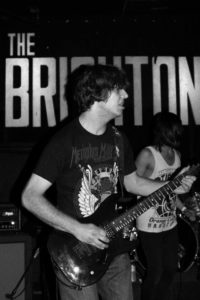 How does the music come together during the writing process?
Dan Smith: "We have a system for writing our music. Bill will usually play an entire song on his own without any of the others knowing or hearing a lick of it. He'll show Rick and me and we'll make slight tweaks by either adding things or taking things away while making suggestions. The drums and bass are then added in."
Dan Cimino: "Next, I will take a listen during practice and narrow down how the lyrics fit the structure and feeling of it. Then, I'll start editing them down to fit nicely and start yelling along."
Dan Smith: "The songs are constantly changing because Bill likes to adlib on the fly. He has about 80 songs of new material to choose from."
Where have you performed and  what are your favorite venues to play?
Dan Smith: "We've played at the Brighton Bar three times, The Log Cabin in Manchester twice and a backyard show in Brick I consider to be really cool. The Cabin was easily my favorite venue with its rich history in the local hardcore scene in Ocean County."
Dan Cimino:  "For the same reasons, my favorite is absolutely the PLP Log Cabin."
How do you book shows and how much does it usually cost to see you perform?
Dan Cimino: "Dan (Smith) usually handles all of that. I consider him the business b**ch."
Dan Smith: "I get in touch with promoters, get on the shows and tickets. It costs $8-12 to see us at any given show, unless of course it's a free one in someone's backyard (June 21!)."
What are the biggest challenge(s) facing the band?
Dan Cimino: "My anxiety disorder. I still suffer from it, but I have been working on getting better and the guys are certainly helpful."
Dan Smith: "At first it was extremely visible, but he's only getting better with time. On a lighter note, Rick's sweat stench is pretty hard to ignore, but somehow we get through it."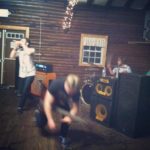 The new record, how is it similar and/or different from the last?
Dan Smith: "Our first EP entitled 'Creations' was just us getting our feet wet, so to speak. The 'Atlas of Life' is a record with dual meanings; the first being that life as is has no map, so the 'Atlas of Life' is blank and you must draw your own maps and navigate your own way."
Dan Cimino: "It also doubles as a story. Essentially the album,which Dan (Smith) is proud to say he came up with, tells a story about a man named Tyler who spends his days preaching on a busy New York City street looking for followers/disciples to join his pseudo-revolution. The two meanings coincide with the story and an overall topical meaning, but we like to leave the option open for fans to fill in their own gaps."
What advice do you have for people who want to form their own bands?
Dan Cimino: "Don't stop. Whatever you do, don't stop playing music."
Dan Smith: "If you're going to start your own band, make sure you can be totally honest with yourself and accept criticism. Dedicate your time to your craft and always strive to get better. A band doesn't just happen. It also helps to surround yourself with good people."
Their upcoming shows include April 12 in Browns Mills, N.J. where they will be playing with From The Depths and The Color Nothing and May 24 at Gamechanger on Route 9 in Howell, N.J., where they will be joined by Float Face Down.
Video published by menickperez