WEST LONG BRANCH, N.J. – South of the Border stands just off of I-95 in Dillion, South Carolina, after over 100 billboards point tourists in its direction. The mascot of South of the Border, Pedro, a rather racist depiction of a Mexican man, urges families to "take the next exit now!" before they miss the "World Famous" rest stop.
Far from it's heyday, South of the Border remains a monument to roadside attractions of the past. Yet still, many tourists continue to stop by, to catch a glimpse of this once legendary pit-stop.
When driving through the South of the Border attraction, tourists are greeted with a variety of restaurants, souvenir outposts, and hotel facilities as well as the looming Sombrero Tower, the Pedro Land carnival and the Reptile Lagoon. Unfortunately, many tourists seem to arrive on an "off" day.
Andrew Colucci, a Graduate Student at Monmouth, shared his experience. "Everything was closed when we stopped there, even the restaurants. All we did was take pictures on the plastic animals."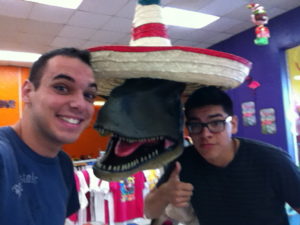 Alexis Fox, a Senior at Monmouth, also described her trip to South of the Border, saying, "It was a ghost town. For this supposedly famous place, it was very empty, locked up, and broken down. The only thing to do was take pictures with the sombrero-animals."
This appears to be the norm of what tourists do at South of the Border — meander and snap photos.
Upon first look, South of the Border appears to be abandoned. There are not many people there to begin with and often times, attractions are closed for whatever reason.
Amanda Ochart, Monmouth Senior, shared her perspective on the roadside attraction as well. She said, "The best way to describe it is a giant garage sale." The entire facility sports bright and overly 'cartoon-ish' colors. The place looks incredibly tacky as it has a 1960s aura surrounding it.
One attraction seemed a bit more intriguing than the others. The Reptile Lagoon advertises itself as "The World's Largest Indoor Live Exhibit", though this claim can easily be challenged. For $8 admission fee, guests can walk along a gravel path with alligators, crocodiles, lizards, snakes, and turtles. While walking through, however, one has to question the "Live" claim of the exhibit.
Josh Mas, an M.U. Sophomore, noted that, "Most of the animals were sad and pathetic looking. There was even a dead, rotted turtle that was crushed by a pipe in its tank."
For meal options, guests have a variety of venues to choose from. Aside from the ice cream and hot dog stands, there is also Pedro's Diner, the Sombrero Restaurant, and the Peddler's Steakhouse. The sit-down eateries offer different varieties of authentic Mexican cuisine that will be make your border pit stop more genuine.


So, why should anyone bother visiting such a 'disappointing' place? Colucci provided his own answer. "The place is such a joke, but it's awesome if you're with the right people!"
That may just be the secret to having fun at such a drowsy, lethargic destination.
Mas went on to compare his first and second trip together. He said, "It was definitely more fun going with a friend. We had such a great time just messing around and exploring the attractions."
Any road trip would not be complete without at least one lifetime trip to South of the Border. If you're with a group of the right people, it will definitely make all the difference for how you view it.
Whether it just be taking pictures on the sombrero-wearing plastic animals that litter that premises, climbing to the top of the Sombrero Tower for that 'spectacular view' of the parking lot, or simply being the only real Hispanic person in the entire place, South of the Border pit-stops can make any road trip a very…memorable experience.
Video by William Brucella