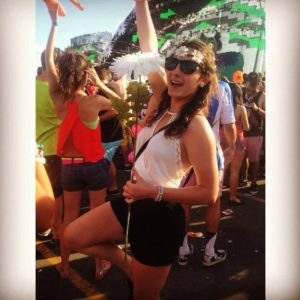 WEST LONG BRANCH, NJ – The Met Life Stadium was over taken by floral headbands, bedazzled bras, and cropped shorts as festival goes converged for the Electric Daisy Carnival in East Rutherford, NJ.  And while some are more concerned about putting together the perfect outfit and getting front row at their favorite shows, some find themselves concerned with a far more pressing issue: safety.
Electric Daisy Carnival is a music festival that takes place in New York, Las Vegas, London, Puerto Rico, and Chicago during one weekend each year. Attendees must be 18+, and have a valid form of ID on them to enter. Inside the event, there are multiple stages of music, carnival rides, fully stocked bars, and huge amounts of crowds. With so much going on, there is still the question whether these events are just simple music festivals, or a place where people can break the rules.
On the EDC website, there are guidelines provided to ensure the event will be safe. The first statement is that there is zero tolerance for drug use or possession. Officers work inside and outside the venue to ensure that all drug related laws are enforced. If an attendee is intoxicated before entering the event, security has the right to turn anyone away.
Professional medical staff is positioned throughout the event incase of an emergency. EDC also uses technology to ensure safety. If someone is unable to personally get in touch with a medical staff member, there is a number you can text with your location for a staff member to find you.
With the event being held outside, rain or shine, a huge rule is to stay hydrated. With food and beverage stands everywhere, guest are encouraged to drink plenty of water throughout the 11-hour event.
Though this event may seem safe, there are always those people who do not feel like rules apply to them, and they somehow get away with what they are doing. A big issue surrounding EDC is drug use. It is not uncommon for attendees to use drugs before or after the event. In 2012, a 22-year old woman took an ecstasy pill on the last day of the festival, and proceed to fall off of the roof of her hotel room. While this tragedy may have not occurred at the venue, the incident's affiliation with the event has still solidified EDC's reputation as dangerous.
In 2013, the third day of EDC was cancelled due to two deaths that occurred during the festival. While there was not a definite answer as to what they died from, there are speculations that the drug Molly was in their systems at the time of death.
"It's hard to determine where the responsibility for safety lies," stated Monmouth University senior Caitlyn Bahrenburg.  "While the event should take precautions to ensure the safety of event goers, they can only do so much.  All of the attendees are adults and should be responsible enough to behave responsibly and safely."
Drugs may play a big part in the issues at these events, but the overconsumption of alcohol also tends to result in tragic events. Back in 2012, a 31-year old man was hit by a truck when leaving the festival. He later died in a nearby hospital, where friends stated that he had been drinking during the event.
For most of these incidents, Insomniac Festivals, the creators of EDC, state that the tragedies did not happen on the property of the event, therefore they cannot take responsibility for the incidents.
So, does EDC seem safe or scary to you?