WEST LONG BRANCH, NJ– Chanel's Fall 2014 Ready to Wear Collection introduced a fashion combination most individuals would cringe at:  pants and running shoes. This combination has been frowned upon for quite some time now, but is now effortlessly luring its way into the fashion industry and everyday wear.
Chanel has been known forever for it's elegant tweed suits and pearls originating from Coco Chanel herself. Karl Lagerfeld, who is now the creative director and head fashion designer at Chanel, is putting his own twist on haute couture by swapping out the tweed suits and pearls for fitness gear. Chanel models rocked the runway during Paris Fashion Week, which was designed like a supermarket, displaying an array of running shoes in various designs. Eye catching sneaker designs included the use of tweed, hologram, and leather. The footwear was perfectly paired with chic looks from leather pants to skirts. Karl Lagerfeld's new twist on Chanel created a new style obsession among all fashion forward folks.
"I really feel that Chanel's point of view on sport attire speaks to the versatility of the company," states Monmouth University senior Caitlyn Bahrenburg.  "Carl Lagerfeld's ability to stray so far from Chanel's signature tweed jacket while still maintaing the integrity and identity of the brand is indicative of Chanel's staying power, it's why Chanel is still the iconic brand that we know it to be."
Dozens of fashion publications have adopted this new style craze into their magazines. Vogue even made a post dedicated to sneaker street style at Paris Fashion Week 2014 to give readers a few pointers on how to incorporate  their running shoes into their fashionable everyday attire.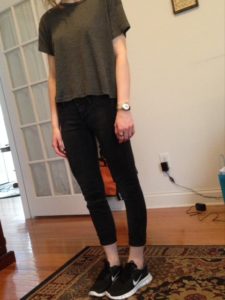 Editor-in-Chief of Lucky Magazine, Eva Chen, commonly posts pictures to her Instagram of her fresh kicks. She adopted the Chanel style by sporting a pair of hologram Nikes. Eva Chen does not just limit herself to Chanel inspiration; she also includes photographs of herself incorporating Nike Air Max 90, Nike Roshe, and many other sneaker models.
Common running shoes that are viewed as chic are the classic New Balance 574, Nike Air Max 90, and the ever evolving Nike Free Run. These choices are affordable and available at any Footlocker, Finish Line, and sneaker store you can imagine. You do not have to be a Chanel runway model or a fashion editor in order to sport the pants and running sneaker combination. Everyday fashionistas can easily  incorporate this trend into any outfit to instantly add a hint of pizzazz.
Skinny jeans can easily be paired with sneakers for a sporty, cool vibe. Bright colored sneakers are capable of adding some life to dull blue-colored denim. Neutral hued sneakers can be worn with black or white jeans for a low-key minimalist look. This is adaptable for fall, winter, spring, and summer by simply just making small tweaks to an outfit as a whole.
For fall, muted and neutral colors come into play to match autumn's color palette. Dark, stone wash denim is a must have since it is so versatile and complementing of the season's toned down hues. As seen in the Chanel Fall 2014 Ready-to-Wear Collection, long trench coats in a variety of colors and different fabrics such as tweed are very practical options to stay fashionable and warm without getting over-heated. Layers are key when it comes to this look since the weather can be unpredictable in the fall. A simple t-shirt or long- sleeved shirt can be worn underneath to keep the look clean and crisp.
The chilly winter months call for a fitted or over sized sweater. This paired with black jeans would look effortlessly cool with a pair of Nike Air Max 90 or New Balance 574. Do not let the snow hold you back in the winter; ditch the boots and embrace this look!
Spring and summer work together when it comes to fashion. Both seasons have their ups and downs in temperature which results in the possibility of wearing cool and warm apparel. The pants and sneaker combination can be matched with either  a short sleeve shirt, tank top, and even a lightweight jacket, but of course options are almost endless.
Well, there you have it; the ultimate guide on how to incorporate your running shoes into your every day wear. If anyone gives you odd looks just simply say,"read Vogue".