WEST LONG BRANCH, NJ–Monmouth University has locked in the number 36 spot on U.S. News & World Report's annual ranking of Best Colleges.
Having risen 40 spots since 2005, the Jersey Shore university secured the number 36 spot in its category, Regional Universities North. The school continues to supersede a few of the best colleges in the country, including Towson University in Maryland and Johnson & Wales University in Rhode Island.
"It's fantastic to see our ranking rise once again in U.S. News & World Report and to be recognized as one of the best colleges in the nation," said Monmouth University President Paul R. Brown in a press release.
President Brown's enthusiasm is mirrored by current and past Monmouth students of all majors.
"I'm happy to see Monmouth move up in the ranks because of all our hard work and dedication. It's proving that the student body is excelling and reaching their future goals," said James Romano, senior communication major.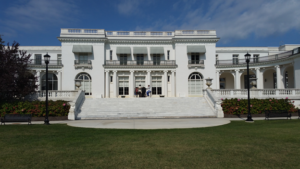 "There is a large amount of school pride, and that is really awesome. And the professors, or at least the ones that I've had, care about the students, know them on a first name basis–something you can't get at big schools," said Alexis Simoes, senior political science major.
"Plus, the campus is gorgeous," she added. "When I have free time and the weather is nice, I go to that garden next to Wilson Hall to read. It's peaceful."
When Steve Schukin, senior accounting major, was asked what he loved most about Monmouth, he couldn't exactly choose one reason.
"It's a beautiful campus, commuter friendly, small classes, a nice new gym, and supportive faculty," said Schukin.
Michael Lubischer, a Monmouth University alum who graduated in 2014, reflected upon his experience at the university in a positive light after hearing that his alma mater moved up in the ranks. Lubischer expressed that despite being a local Monmouth County resident his whole life, he decided to live in the dorms and ultimately achieved the full Monmouth experience.
"My college experience [at Monmouth] was definitely a step up from my high school experience, and as a local, I was still able to feel like I was away from home," said Lubischer.
Because the university had the unique ability to transport Lubischer to the new realm of college life, despite being so close to home, the award from U.S News and World Report does not come as a surprise to him.
Prospective students may view U.S. News & World Report's Best Colleges Ranking as a factor in deciding which college to attend. However, for Monmouth University, the ranking is not just number. It is a reflection of the university in its entirety–past, present and future.
"Monmouth is still there for me when I need any professional or educational advice, and I still receive the full-time job newsletters every few weeks," said Lubischer. "It's great to know that the University looks out for their alumni too, not just students currently enrolled. Plus, the second there's a wind chill, I grab my Monmouth hoodie!"