WEST LONG BRANCH, NJ–There you are, in a classroom with your fellow classmates. You feel mostly comfortable with the students, even though they may be people you have only known for a short time. Then, in this learning environment where everyone should feel safe, you turn around to see a gunman open fire.
This situation mirrors what happened on October 1, when a shooting at Umpqua Community College in Oregon had Americans grieving for the lives of innocent college students. The following week, the threat of a repeat violent act would be targeted at dozens of universities and colleges in the Philadelphia area. The threat had families and students across the country worried what the possibilities could be and fearing the worst.
Unfortunately, in addition to this, the Community College of Philadelphia was under lockdown on October 6, after a student brought a gun to the institution. According to the New York Post, police officials do not believe it was related to the earlier threat, but there is no definite answer.
During the threat, higher education institutions in the entire tri-state area took the precautions they deemed appropriate, but none of them took it seriously enough to cancel classes or any activities for the day.
Rowan University student and Public Safety intern Steven Bernhardt explained the several procedures that his university took in order to keep the school as safe as possible. The school sent out precautionary emails and added more personnel on and around campus. However, as a student, Bernhardt still felt very threatened.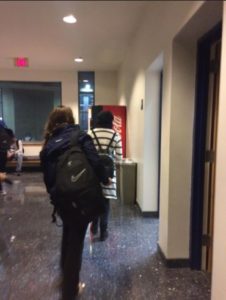 "This threat made me think and be more vigilant to my surroundings," explained Bernhardt. "My mindset has completely changed when I am in a public setting."
This problem is not just limited to the Philadelphia area, however; it is one sweeping the entire United States. According to Fox News, at the University of Texas, a similar threat was sent out via an anonymous social media post Sunday afternoon. This resulted in smaller class sizes as students decided coming in was not worth the risk.
While it may be impossible to pinpoint which threats and actual attacks are related, what is definite is that colleges' very own students are creating and using violence against their classmates. School shootings have come to be an epidemic in recent years, with 47 in 2015 alone according to ABC News. Most will agree that this is 47 too many.
Attending school should not be something students think twice about, but the recent news has the average student thinking that anything can happen at any time. And with most colleges and universities around the country enrolling anywhere from thousands to tens of thousands of students, that is a lot of worrying.
Hopefully one day, sitting, walking, and learning on a college campus will not be a risk to one's life. To achieve this "ideal," however, a solution needs to be found by all universities, whether that is stronger gun policies or prevention programs. Otherwise, the lives of innocent students will continue to be needlessly lost across the country.