WEST LONG BRANCH, N.J.–I believe in perseverance. A pony I rode as a child taught me that.
Ever since the fateful, snowy day in February 2002 when I mounted a pony called Lou in a yellow L.L. Bean winter jacket, a worn-out pair of blue jeans, Vans skateboarding sneakers, and an old riding helmet I borrowed from the facility, I have been cultivating my horseback riding skills and expanding my knowledge of the animal I love most.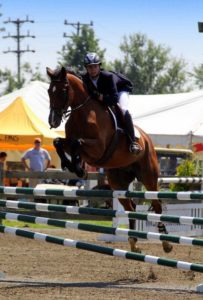 After dismounting the smoke grey, poky steed with the help of my nurturing riding instructor, Debbie, I happily strutted over towards the viewing room, where my mother stayed warm, and professed my love for the sport.
The rest was history.
My passion for riding soon became a gripping lifestyle as I still ride and take care of horses to this day. Through years of instruction, my new-found abilities led me to compete in show jumping competitions throughout the East Coast.
However, the process was not always a pleasurable ride–no pun intended. Over the years, I have fallen off, been kicked, and been bitten by that so-called "animal I love most." Yet, I always find myself coming back for another ride.
When I was 10 years old, I mounted a white and grey pony named Bunny. Do not let the name fool you. This ball of fury suffered from an allergic reaction to a penicillin shot she received as a filly. This caused her to have ultra-sensitive skin for the rest of her life, accompanied by a forever-agitated attitude. Reluctantly agreeing to ride her, I was faced with weekly challenges that tried my patience and willingness to ride.
When I picked impacted dirt from her hooves, Bunny tried kicking me. As I tightened her girth after placing the saddle on her back, Bunny lunged for me, narrowly missed, and ended up chomping down on the cross ties that secured her to the wall. Once the dicey tack up was over, Bunny dragged me around the dirt arena at a full gallop as I struggled to control this beast.
I began to have second thoughts after another unsuccessful lesson, where I found myself in a cloud of dust and wood. Bunny decided to throw on the emergency brakes directly in front of an obstacle, causing me to somersault over her neck and land on the jump. I dusted myself off as the back pain began to surge. Tears streamed down my face as Debbie cornered Bunny, who continued to gallop around the ring after my gymnastics stunt.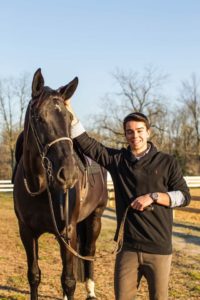 I wiped the tears from my cheeks, closed my eyes, and thought hard to myself. "James, do you really want to do this?"
I came to the realization that I had come so far in riding that it would be foolish for me to give up on something I loved so dearly. After an encouraging pep talk from Debbie, I decided to climb aboard Bunny again. Even though I did not know the word's definition at the time, getting back in the saddle ignited an ongoing theme in my life: perseverance.
All of Bunny's old habits and vices soon became a distant memory as my determination gradually enabled me to compete with her at horse shows, which was my biggest riding goal. I am thankful for my experience with Bunny, as I could have easily given up and pursued other hobbies. I believe in perseverance, because without my 10-year-old boyhood grit, I would have never discovered my true, lifelong love for horses.