WEST LONG BRANCH, N.J.–On Sunday, November 15, skateboarders of all ages met under the George Washington Bridge at Ross Dock Picnic Area for the seventh running of the annual downhill longboard race called Major Stok'em. Usually held in spring, this year race organizer Adam Dabonka, along with main sponsor Muir Skate and hosting sponsors Ghostskate and Shralper's Union, took advantage of the unseasonable weather to hold the event in the fall. It was a full day of downhill racing, complete with close racing, fast speeds, and plenty of crashes.
The Major Stok'em race course is a closed road part of the Palisades Interstate Park System. This road has become notorious for close racing and heavy crashes in the seven years of Major Stok'em to date. While the course is only a quarter-mile long and speeds never reach more than 35 miles per hour, there is a crucial 90 degree left into 90 degree right corner complex just before the finish line, which can make or break a heat. This tight left hand corner is called "Crash Corner" by some, and for good reason. Just before entering the corner, racers reach their peak speeds. Racers must slow themselves slightly to an ideal entry speed and take a perfect entry line to avoid crashing into the opposite curb. Paramedics are standing by at the corner throughout the race in case of an emergency.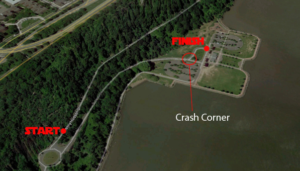 At this year's Major Stok'em event, "Crash Corner" was as lively as ever– perhaps more than ever in the event's history. This was obvious right from when practice heats began at 9:30 a.m. Skaters were allowed four to five runs each before practice ended. Even though these were only practice runs, almost every heat saw at least one skater go down in the "Crash Corner". This is probably because south winds, gusting up to twenty miles per hour, gave racers a major tailwind and caused top speeds to be upwards of 40 mph.
By 11:30 a.m., race qualifying runs had started, and wind speeds remained high. Each skater was guaranteed to compete in at least four qualifying runs. These initial heats were created randomly, with three to four riders per heat. A points system, with five points for first place, three for second, two for third, and one for fourth, determined which riders would advance to the final heats. In these heats, there were even more crashes than in practice, as skaters pushed themselves to beat each other to the finish. Thankfully, no one was seriously hurt.
By the time final heats came around, the clear standout rider was Emily Pross, a professional downhill skater from Vernon, N.J. Pross was one of only three female riders in the combined male and female heats, and she was undefeated going into the finals. In the final heat, as she came down the hill into "Crash Corner," she sat in second place. She kept her cool, nailed her entry into the corner as the racer in front of her crashed into the curb, and crossed the line in first.
Despite being currently ranked as the No. 1 female downhill skater in the world by the International Downhill Federation, Pross came to this race with a relaxed, have-fun attitude. She wasn't alone. Smiles were all around at the race, even from those who crashed or were eliminated in qualifying. The longboard community came out to the race to enjoy a great day and have fun with friends–and that is exactly the spirit of Major Stok'em.
Author note: Thanks to Adam Dabonka and all involved for putting on an amazing event.