WEST LONG BRANCH, N.J. – Strange is not the word I would use to describe this movie; rather, it is stellar, mind-blowing, and entertaining from start to finish. The action-packed film Doctor Strange begins in London with an epic battle between Kaecilius, played by Mads Mikkelsen, and The Ancient One, played by Tilda Swinton. Their journey starts in the U.K., but they manage to travel around the world and universe in a matter of 120 minutes. So, as Master Mordo said to Dr. Strange, "take my advice and forget everything you know" – about typical superhero movies, that is.
Master Mordo, played by Chiwetel Ejiofor, entered the movie as a mysterious yet easy going character. Ejiofor provided a stellar performance, impressive enough to warrant its own spin-off. He kept the audience enthralled in his speech and endlessly curious of his next actions. Wong, played by non other than Benedict Wong, was an amusing and refreshing character, whose seriousness and witty personality, in contrast with his tough exterior, had viewers fighting laughter throughout the entire film. Mixed with Dr. Strange's sarcastic personality, the two formed a dynamite duo that took the edge off the film's tense atmosphere, which was full of intense action and archaic ritual.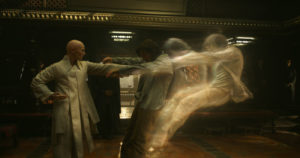 Benedict Cumberbatch was an amazing Dr. Strange. Truly he played two roles, as there is a Dr. Strange and a Mr. Strange. Dr. Strange is an egotistical heart-throb and a big-shot doctor. He can perform any surgery and take care of any patient. He is the Bruce Wayne of doctors, but his ego gets the best of him. Mr. Strange is a defeated man, who provides little entertainment or excitement. He needs to change, but he must follow the teachings of The Ancient One to do so.
While Doctor Strange is based in action, a bit of romance is sprinkled in via Christine Palmer, played by Rachel McAdams, who takes on the role of Dr. Strange's part time assistant and full time lover. However, director Scott Derrickson left it a true superhero movie and kept the mushy love scenes to a minimum. The focus remained on who audiences truly came to see – and that is Dr. Strange.
Derrickson's directing was not the only behind-the-scenes aspect worth raving about. The editing, done in part by Sabrina Plisco, was entrancing. Each landscape allowed audience members to be fully immersed in the world of Dr. Strange, creating an alternate universe for us to be temporarily lost in. Every shape-shift allowed viewers to enter a different dimension, and dive deeper into the story at the center of it all. The music was noteworthy as well; Dr. Strange's eclectic taste, that he listens to while performing surgery, will have you giggling and wiggling in your seat. The score was composed by Michael Giacchino. The instrumental backdrop had some stand-out moments, in action packed scenes with edge-of-your-seat drama and in comedic scenes, where it added a soft touch of additional humor.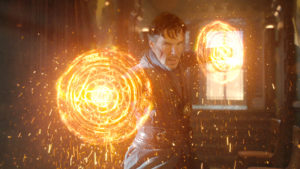 If you are a fan of Marvel comics, do not miss this movie. Not only will you be thrilled by the story and captivated by its visuals, but you will also be left with an itching curiosity as new characters are introduced in the film's final moments. Overall, Doctor Strange is a worthwhile trip around the universe, and anyone who enjoys superheroes or action packed adventure should hop on board. Doctor Strange comes out on DVD and Blu-ray on February 14, 2017.