WEST LONG BRANCH, N.J. – New year, same struggles for the New York Knicks. 2017 has not been to kind to the Knicks, as they have played seven games, but only won two. The team's struggles are beginning to worry their fans, since the Knicks started the season with a promising performance and potential playoff spot waiting for them. But their recent issues have left them just two wins shy of the eighth seed for a playoff spot. Luckily, the season isn't even half way over, so Knicks fans shouldn't hit the panic button just yet.
The Knicks have had a lot of drama surrounding their players, with Kristaps Porzingis resting more then usual while battling an Achilles sprain, and the Derek Rose dilemma that occurred at Madison Square Garden January 9th. Reports say Derek Rose left the city without saying a word to any of his teammates or the staff. According to the New York Daily News, "Rose returned to his hometown of Chicago on Monday without informing anyone from the Knicks. Officials scrambled to locate him as the team suffered an embarrassing blowout loss to the Pelicans that night. Rose then rejoined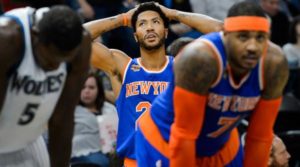 the team Tuesday and played Wednesday night at the Sixers before scoring 17 points in 34 minutes Thursday night."
If this losing streak was not already embarrassing enough for Knicks fans, their loss against the Philadelphia 76ers on Wednesday, January 11 definitely solidified the shame. A tough battle ended with the Knicks suffering their third straight loss. However, they bounced back shortly after when the Knicks took on the Bulls in Madison Square Garden on January 12. Carmelo Anthony shot 10/19, finished with 23 points, nine rebounds, and six assists, leading the Knicks to a win against the Bulls, even though they were missing their star, Porzingis. Rose finished the game with 17 points on 7-of-15 shooting, four rebounds, and three assists. He looked like his old self, pushing through court-traffic, strong and athletic.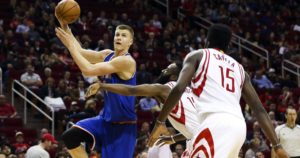 Another fan favorite for Knick fans is Mindaugas Kuzminskas, who scored a career high of 19 points for the team during Thursday's game. Knicks fans embraced the rookie by cheering "Kuzzz!" whenever he entered the game. The loss in Philadelphia was definitely a gut check for the New York Knicks, as they knew they could perform better than that. Player Joakim Noah called it an embarrassing loss. This Bulls win will hopefully be a positive for the Knicks, and perhaps will help dissipate all of the drama that has surrounded the team this past week. Knicks fans hope this win propels them on a winning streak, as they prepare to take on the Toronto Raptors in Toronto on Sunday, January 15.