WEST LONG BRANCH, N.J. – It had been a long time since the world heard new music from Ed Sheeran, and the wait finally ended on March 3, 2017 when he released his brand new album ÷ (Divide). Comprised of 16 tracks and a whole lot of nostalgia, this album is truly special, and deserves the recognition and success it is already receiving.
The concepts behind this album are easy to relate to for almost anyone, and any listener can detect the sentimental value it must hold to Sheeran, considering many of the tracks are extremely personal and heartfelt. After listening to it entirely, I really felt myself reminiscing on my own life, something I think Sheeran wanted his audience to do as a result of this album. The sentiment can be seen throughout each individual track.
"Eraser"
The opening track pulls listeners in immediately. For starters, the music is stellar, with its dance beat and acoustic vibe. Lyrically, it was all about Sheeran humbling himself. The line, "When the world's against me, I really come alive," served as a reminder that he makes music for himself, and he has not let his critics bring him down.
"Castle on the Hill"
Personally, this is one of my favorite tracks on the album. The sentimental value of this song is overtly apparent, and actually brings me back to my own hometown, just like it does for Sheeran. The line "Take me back to when.." was used often, laying the nostalgic foundation for the whole album. The music in this song is also extremely catchy, perfect for popular radio – which it has already begun to dominate.
"Dive"
This song is incredibly reminiscent of Sheeran's "Thinking Out Loud" from his album, x; they both have a similar sound, with an unforgettable hook. In this song, Sheeran describes how he's protecting his heart with the line, "Let me know the truth before I dive right in to you." It is relatable for people who have been in love, though it's not as sentimental as others on the album.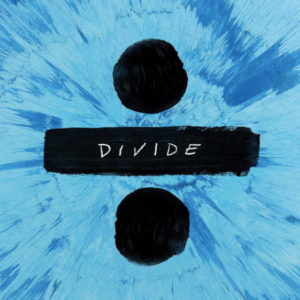 "Shape of You"
This is the song that everyone knows, and will know from ÷.  It is on the radio constantly. It has a fun sound, and is the type of song that gets stuck in your head all day, though it is not the album's greatest achievement. It falls short conceptually in the greater picture that is ÷.  On its own, it's dynamic, but with the album, it's forgettable. Maybe that's why Sheeran made it a single.
"Perfect"
Here we have the first real "love song" of the album, something Sheeran is known for.  With lyrics like, "We were just kids when we fell in love, not knowing what it was," and "She shares my dreams and I hope that one day I'll share her home," this track has got to hit some people right in the feels.  It is a beautiful song with a soothing melody.
"Galway Girl"
The Irish love this track; in fact, it shot to number one in their country immediately after the album's release. This song is fun, upbeat, and the story of a night on the town.  It sounds Irish as Irish can be, and insinuates a real-life experience from Sheeran: "I swear I'm going to put you in a song I write about a Galway girl and a perfect night".
"Happier"
Break out the tissues, because this track is a tear-jerking breakup tale. It is very soft but regretful, reflecting upon a relationship that ended as a result of Sheeran's mistakes. The line, "You look happier, you do. My friends told me one day I'll feel it too", depicts longing and heartbreak, something almost any listener can relate to.
"New Man"
Like "Shape of You," this is another rather forgettable track. "New Man" falls short musically, but the lyrics are lighthearted and playful. The whole song is about a girl with a "new man", and Sheeran is essentially complaining about it. One lyric explains, "[He] drinks beer but has a six pack, I'm kind of jealous". Aren't we all, Ed?
"Hearts Don't Break Around Here"
Another love song here, but with a serene sound, almost like a lullaby.  This track is very descriptive and attends to the senses.  It's also quite quirky and sweet, detailing a trusting relationship. "Shakes my soul like a pothole every time", and, "She is the flint that sparks the lighter, and the fuel that will hold the flame", are two stand out lines from this touching tune.
"What Do I Know?"
This track is relaxed and smooth, with a composed atmosphere. One of the best lines in the song is "We can change this whole world with a piano, add a bass, some guitar, grab a beat, and away we go". The message in this song is a strong one: people focus on things that are not important in life, while love is much more important than the little things.
"How Would You Feel (Paean)"
This may be the best love song on the album, despite the popularity of "Perfect". It is very gentle and romantic, and it feels as though it would be a popular wedding song, because it channels that sentimental, nostalgic, feel of the past and hope for the future. "I'll be taking my time spending my life falling deeper in love with you", sounds like a line every bride and groom should share their first dance with.
"Supermarket Flowers"
This song is breathtaking.  It is a beautiful tribute to Sheeran's grandmother, despite "Mom" being referenced in it quite a bit. It was written from Sheeran's mother's point of view and offers, again, a sentimental and nostalgic feeling. This track is just a lovely tribute to his grandmother; one line saying, "When God takes you back, he'll say hallelujah, you're home".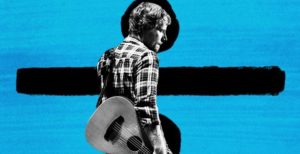 "Barcelona"
This song may be my favorite off the entire album because it is so lively and carefree. It is impossible not to dance to; making the line, "Get lost in the rhythm of me", quite fitting.  There is also some Spanish in this song, which gives it a little extra flair and makes it all the more jovial. I can't get enough of this one.
"Bibia Be Ye Ye"
In English, this song means "all will be well"; a perfect title for this smile-enducing track. This song flows so smoothly, and has an air of self-reflection and meditation. "Someone told me always say what's on your mind", is a striking line with a significant message for listeners. Conceptually, this song ties together much of the album.
"Nancy Mulligan"
If the name does not give it away, this is another very Irish song, more so than "Galway Girl." It is very fairytale-esque and tells a story of the love and life of two people. "Nancy was my yellow rose and we got married wearing borrowed clothes," is a fun line that showcases the descriptiveness of the lyrics. The music is very folky and clearly draws from Irish roots.
"Save Myself"
This track, the last on the album, takes a very serious tone and boasts an incredible message. Like the song says, "Before I blame someone else, I got to save myself / Before I love someone else, I got to love myself". Sheeran is making sure he is putting himself first, before he can give his all to someone else; a necessary reminder for his younger audience, who are still learning the ropes of love and relationships. This is the perfect track to conclude the album, and a smart move on Sheeran's part.
The general theme that can be taken away from this album is reflection, remembrance, and nostalgia. It forces listeners to get in touch with their own lives, and rethink their past experiences as lessons, instead of just stories. ÷ is relatable and full of heartfelt sentiment; and from the 16-song track list, every listener should find at least one track they can enjoy.