WEST LONG BRANCH, N.J. – Strawberry Girls' third full length album, Italian Ghosts, a revitalized version of their debut EP, was released on February 17. When comparing both versions, it's easy to see the immense growth within the band's sound and production value. Strawberry Girls consists of three members: Zac Garren on guitar, Ian Jennings on bass, and Ben Rosett on drums.
Being an instrumental only band means Strawberry Girls have to enthrall audiences without the typical flair of a lead singer. Garren's ability to make a guitar sing completes the ensemble's sound. Their songs turn flowing melodies into intricate and well thought out chaos. They are less technical than most instrumental based bands, but their character and arrangements are still extremely tasteful. Their sound is a mix of rock, funk, punk, reggie, gritty fuzz tone, and syncopation that would leave progressive rock musicians and fans impressed. What separates Strawberry Girls from other bands is their overall tone, attitude, and groove.
The original Italian Ghosts EP consisted of only six tracks and was about 28 minutes long. All tracks from the original EP were redone in their updated full length version of Italian Ghosts. The new version contains ten tracks in total, and is approximately 37 minutes long. The album flows together beautifully, as if it could have been a single song.
The four new songs on the EP include "Thank God", "Step Into the Light", "The Hate of Loving You", and "Shadow of the Moon". All four of these new tracks all contain vocals. Some of these tracks are a departure from what'd some might expect from a band like Strawberry Girls but it does show their versatility as musicians, songwriters and how well they think outside the box.
However, the vocals may not have been their best decision. The track "Thank God", which features Nic Newsham and Kathleen Delano, would have been such a beautiful track without Newsham's vocals. It didn't add to the song; but Kathleen Delano did do an amazing job singing back up.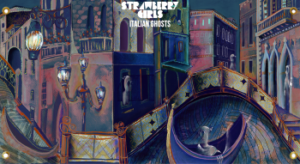 "Step Into the Light" is an interesting track, which features Joey Lancaster. It has a beachy California R&B vibe. It contains a really catchy melody and arrangement. The chorus, which contains maybe the least amount of vocals, is a pinnacle for the album as a whole – the two minute interlude reminds listeners what Strawberry Girls are all about.
"The Hate of Loving You" is also a very funk, reggae, 70's blues-style song, and the vocals, by Mark Banks, were fitting. He backed up the band, instead of the other way around. This is a remarkable achievement for a vocalist, who is used to being the center of the music.
"Shadow of the Moon" is probably the best track vocally, and personally one of my favorites on the album. Vocalist Sarah Glass has such a unique and fragile voice. Her range and clarity pierce listeners, subtly filling them with her harmony. Between the Italian style guitar picking, and ease of the rhythm section, "Shadow of the Moon" proves itself as the song that provides an escape.
Additionally, each of the old, rerecorded songs showcase the band's incredible growth. For instance, "Black Night, Golden Circus" is almost a full 90 seconds shorter, but it carries a stronger pace and the track doesn't drag as much as the original.
In their new rendition of "Vanilla Rainforest", the band crafts a crisper tone on guitar, with gentle sweeps in between the music. Their rhythm section shows such great control in their syncopation, and the tone and energy of the track is revitalized with an overall more powerful performance. The original version is more clean in tone, whereas the guitar is grittier and contains more bite, which makes it cut through the track instead of getting lost in the mix.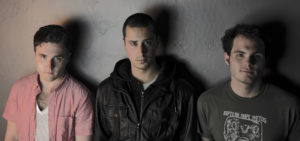 "South American Sun" contained Native American influence in the original intro, which may have worked better, but the new "South American Sun" feels more like a jam than a well-arranged song. It contains a part that borrows the melody from George Michael's "Careless Whisper".
"Been That, Done There" is probably the best rearranged song from the album. It is so much more emotional than the original. The guitar carries a haunting linger in the reverb through certain parts; and the track has so much complexity in tone, yet contains such simplicity in key changeups.
Italian Ghosts from 2011 was an EP that propelled the growing success of Strawberry Girls, but this reimagined version of the EP could bring this band to new heights. Their rearrangements and added songs were done tastefully. Their tone, production, and overall quality has shined on the revamped version of each song, and it shows the progress within the band's playing, mixing, and recording. While it may not be everyone's cup of tea, Strawberry Girls' talent and progression certainly cannot be denied.