WEST LONG BRANCH, NJ – The French fairytale, La Belle et La Bête, was adapted by Disney Studios into the beloved 1990's animated film Beauty and the Beast. This March, Disney released a remake of the film, a live action Beauty and the Beast, which was met with much critical acclaim. The original animated film was met with success when upon release, after being pushed back from filming in the 1930's and 40's. It was only after the release of the musical, The Little Mermaid, that Disney added songs to Beauty and the Beast, which would later become iconic and lead to a Broadway musical in the 1940's.
Disney's heroines tend to be princesses who need rescuing, but end up saving themselves at the last minute. However, Beauty and the Beast's Belle is a pleasant departure from the usual model. She's a smart bookworm who trades her life for her father's, as a prisoner of the Beast. She manages to make the best of her situation, eventually ending up as the Beast's wife, who is actually a cursed prince. The animated film managed to make the story one of love without being overly sentimental, yet viewers don't see the full, behind the scenes view of Belle and the Beast falling in love – that is what the live action film gives us.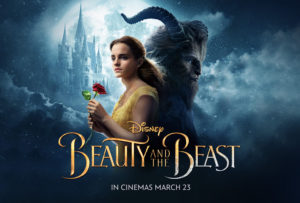 Emma Watson gave the audience a new version of Belle: instead of her father being the inventor, Belle is the brains in her family, creating a washing machine on her own and attempting to teach a little girl to read. France, in a time that seemed to include a feudal system and the plague, did not encourage that behavior. In this story, Belle represents every little girl who was told to not dirty her clothes, to smile in the face of company, and to be pretty rather than smart. She's much like the original Belle, but more relatable to a modern day viewership.
This movie comes at a crucial time for movie-goers and women across the world. Currently, female empowerment is at an all time high, and Beauty and the Beast boasts a female lead in a film that grossed $170 million in its opening weekend in American theaters. It made $180 million overseas, and that number is expected to increase to $1 billion overall.
Women make up a large majority of movie-goers, yet there has always been a lack of representation of women in lead characters. Ladies tend to be side-kicks and damsels in distress, so having a strong female character such as Belle is truly remarkable. She is someone that any woman of any age can look up to, as she stays strong in her beliefs and is outspoken in a way that makes people want to listen to what she has to say.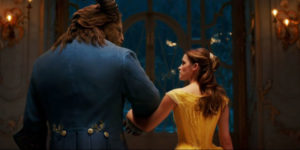 Not only does the film feature a female lead, but it features an openly gay character whose sexual orientation was largely implied in the animated version. In a blink-and-you-miss-it moment, Le Fou is seen dancing with another man, and the two of them look quite happy together. This moment was somewhat of a tribute to one of the original musical directors, Howard Ashman, who died of AIDs related health issues before the original film was released. The film touches upon the ostracism that can come from being different through this scene and others, and tells audiences what to do in the face of such obstacles.
This film fits perfectly with today's society, as it explains how the words of one person can spark a flame in so many others. Instead of the pitchforks and torches, society now takes to social media to tweet their frustrations and resentments. In an interview with the NY Times, Greg Foster, Chief Executive of IMAX Film Entertainment, said, "The world is a pretty cynical place right now, and Beauty and the Beast gave audiences an opportunity to go back to a time of innocence."