(The Verge) – Free Music Friday is taking a slightly bluesy turn this week with the New Jersey based, Down to Fox. While the band only formed this year, they are moving fast. They already released an EP, and won themselves a spot in The Jersey Shore Music Festival on July 20 at BlueClaws Stadium.
It's easy to see why Down to Fox earned one of only four spots awarded in the contest, held by music website Reverbnation.com. The band has a really cool sound. They're a bluesy rock band with just the right amount of soul, and lead singer Emily Parasiliti has a voice made for rock n' roll. They currently have three songs available on their Reverbnation page that can be downloaded for free.
It isn't surprising that the lyrics are great. Parasiliti is responsible for the songwriting, and her credits include lyricist and assistant to Grammy-award winning producer Don Sickler and engineer Rudy Van Gelder.
In "Let Go" Parasiliti sings, "Don't let your soul be lonely/Don't let your heart be cold/I could hold you forever/If you just let go." The sentiment behind the song, the idea of a significant other needing to be more vulnerable, is actually quite sweet and caring. It's a nice change of pace, considering the number of angry rock songs usually tend to outweigh the caring ones. The song is also pretty great instrumentally. Matt Runciman (bass), Ben Brosh (guitar), and Leo Goral (drums) all seem to really know what they're doing as they build up the song.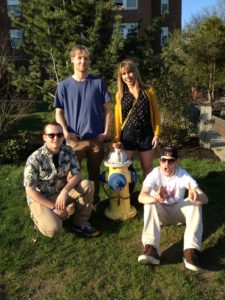 "Oh Jolene" is also a great song (and no, it's not a Dolly Parton cover). The guitar immediately made me think of rock from the 1960s or 70s, and Parasiliti's smooth, dreamy voice kept that vibe. The song describes a girl growing up too fast and getting in too deep. "You bum yourself a cigarette/On the streets paved in gold/but all you can think about/is how your tired hands are cold." It's an interesting song that tells a story. Again, it's different from the usual indie rock song material.
The final song, "Caged Bird", gets darker. The song asks "Now you dream of ocean sides to save you from the truth/Since you lost the will to fly, are you fulfilled?/Was it when the air turned cold?/Or had your wings been worn?" The song sounds like it's addressing a friend battling depression, and the metaphor of a caged bird works really beautifully.
It's important to note that the three songs are available for individual downloads. They aren't listed as part of an EP. Despite the songs not being connected, Down to Fox makes their sound very unique and identifiable.
Check them out this Saturday at BlueClaws Stadium in Lakewood, NJ. Head over to Reverbnation to download their songs for free, and keep up with them as they tour the northeast on Facebook.