(The Verge) – Get ready for the biggest Free Music Friday yet. Alternative rockers NGHBRS, have released their entire music collection, with the exception of their latest album, for free. That's 17 songs, more than the average full length album.
The band released the songs under the Name Your Price option on Bandcamp. Listeners can pay what they want or pay nothing at all to download the album. The band's note on their page states, "Pay what you want, or don't pay at all! Any help will go a long way for gas in our van or to be able to print some t-shirts. All we really ask is that you share this link with some friends. Let's grow the NGHBRS family as big as possible in the coming months."
So why release that many songs for free? It's all in the name of promoting their first full length record, "Twenty One Rooms," available now on iTunes. But let's talk about the free tunes, shall we?
The collection starts off strong with "Animal." It definitely gives the right vibe for the band. The sound is a little reminiscent of 90s grunge, but they're definitely influenced by modern alternative as well. Kenny sings, "We're all just animals, terrified of terrible." The song details people's constant fear of things they don't know. The melody is cool, not quite a fast tune or a ballad, and the song shows off everyone's skills really well. In particular, it's a great introduction to Ian Kenny's voice.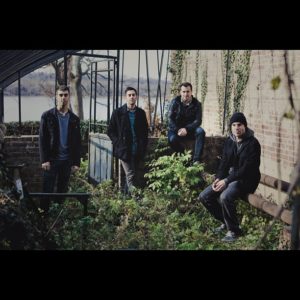 They also include an acoustic version of "Animal." The acoustic version sounds really different, but in a good way. They reworked the song into something else completely. It shows off that they might be indie, but they aren't just some punks playing in their garage. They know what they're doing, and they can be incredibly versatile (something every band needs if they want to stick around).
"American Junk," "Strange Colour" and "Living on My Own" were also fast favorites. The guitar riffs are just fantastic. Guitarist Thomas Fleischmann is very talented and tests my air guitar skills. "Strange Colour" really stood out instrumentally. Everything just comes together in a perfectly melodic way, drums and guitar especially working off of each other perfectly. It isn't surprising to learn that Fleischmann has been playing with drummer Jordan Schneider for eight years.
The ballads work just as well. "Love, Come Down" is a stripped down song that's beautiful. Kenny sings, "Oh, my love, stand tall/Take the weakness in your knees and use the muscle that's your heart/But don't wait for me, waste your time/It's a miracle I'm still alive." The song sounds like it's about someone saying that they aren't ready for a relationship because he's a little too messed up right now. The song is sweet. Kenny only sings along with an acoustic guitar, but the song builds. Slowly, backup vocals, cymbals, and violins come in. The build-up is beautiful.
The album also includes a few live songs. As the collection played in the background through my day, I hadn't realized there were any live tracks. Their sound doesn't change when they're live. The boys don't miss a note; Kenny's voice doesn't falter. It's pretty impressive. They also show a jazzier side in a couple of the live songs, such as "Bodies." Once again, they prove that they can do a lot, and hopefully, that means we'll be hearing a lot more from NGHBRS in the future.
Grab The NGBRS Collection at bandcamp for free, and keep up with the band on Facebook and Twitter. Their latest effort, "Twenty One Rooms," is up on iTunes now.