(The Verge) – February has come and gone, and the first full month of the shortened 2013 National Hockey League season did not disappoint.
First thing's first: the Chicago Blackhawks. Through February, the Blackhawks have played 20 games. To boot, they have yet to lose a game in regulation time. They have been defeated only three times, all of them in overtime. Accumulating points in their first 17 games was good enough to set the NHL record for the best start to begin a season, but Chicago has not let up. They don't have top-5 players in any offensive categories, but rather incredible depth. With the likes of Patrick Kane, Jonathan Toews, Marian Hossa, Duncan Keith, and Brent Seabrook – just to name a few – this team is the real deal. Make no mistake, this is one of the best teams in NHL history. As such, they must be the first name mentioned in any Stanley Cup conversation.
For my January review, I had selected a forward, defenseman, and goaltender from each conference that truly stood out. However, February's performances make it incredibly challenging to select just one of each. There are quite a few players that deserve recognition.
It is worth noting that Tampa Bay Lightning forward Steven Stamkos has reclaimed his rightful place as the NHL's leader in goals. With 14 goals in 20 games, Stamkos has regained the form in which he scored 60 last season. The Lightning are the best offensive team in the league, in large part thanks to Stamkos. He leads the NHL in total points, as well. One-timers, tip-ins, wrist shots from the slot, wraparounds – Steven Stamkos scores goals in many ways, which is why teams have such a hard time containing him.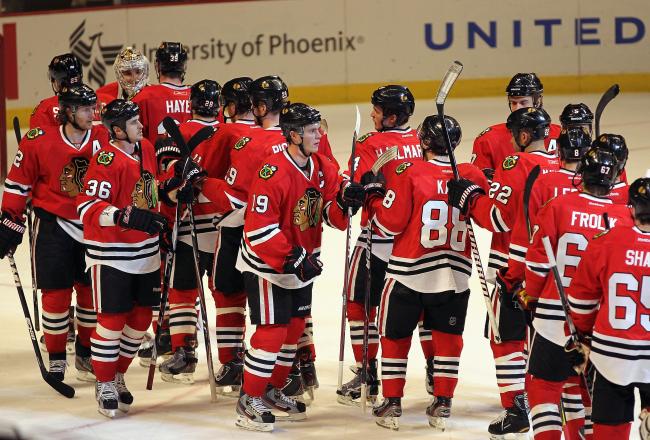 The New York Islanders' recent struggles mean that they are not a team you will see in the spotlight, but John Tavares is playing like the superstar that he is. He is tied for second in the goalscoring race, and is top-5 overall in points, as well. He has 24 points, and has either scored or assisted on 40% of his team's goals. Tavares is the key to the rebuild process that the Islanders have been so patient with.
And of course, there is the best player in the game: Sidney Crosby. Recurring concussions have limited Crosby's play over the past few years, but he has been healthy and effective this season. As one might expect, he leads the NHL in total points. With teammate Evgeni Malkin battling injury, Crosby has stepped up, contributing to 44% of his team's 70 goals. Pittsburgh is a playoff contender each year, some without Sidney Crosby. A Penguins team with a healthy Crosby is a force to be reckoned with.
When Henrik Zetterberg was named captain of the Detroit Red Wings this past summer, he was presented with the challenge of replacing Nicklas Lidstrom – one of the greatest defensemen of all time. Zetterberg is tied for 4th in scoring. It seems year after year, the Red Wings find a way to ice a competitive team, no matter who departs. Henrik Zetterberg is leading by example.
February was an exciting month of NHL hockey. A full month of play provides a clearer picture as to which teams and players have serious playoff hopes. But with the playoffs still more than a month away, a lot can change. It cannot be said enough: in a shortened season, each game is worth so much.