WEST LONG BRANCH, N.J. – Russell Westbrook has made history. 42 triple doubles in a season, to surpass Oscar Robertson for the record of most triple doubles in a season. Westbrook leaves it all on the court every single night.
The MVP talk has been about James Harden on the Houston Rockets, Kawhi Leonard of the Spurs, Westbrook of the Thunder, and of course LeBron James of the Cleveland Cavaliers is always an honorable mention.
However, all of those teams have something in common, except one: they could all still potentially be a playoff team without those MVP candidates. All of them, except the Oklahoma City Thunder. They would not be in the running without Russell Westbrook and the mentality he brings to the court every single night, which was able to carry the Thunder to the playoffs.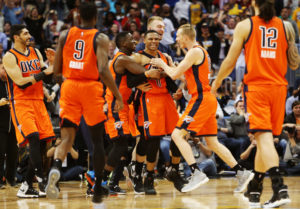 The Thunder are a 47-win team, which landed them with the sixth seed in the always tough Western Conference. The team on the outside looking in was the Denver Nuggets, with 40 wins. The Thunder could not have managed more than 40 wins or played to the same caliber of basketball without Westbrook – it's that simple.
Of course, when Westbrook was asked about the season, the only thing he is focused on is the playoffs. Obviously, he is saying all the right things. 
Last season, the Thunder were just one game away from reaching the NBA Finals. With Kevin Durant and Westbrook leading the way, they were ready to make history. Taking out the first unanimous MVP in NBA history, Steph Curry and squad. All until the Warriors turned it on and came back from a 3-1 series deficit, to take it all and face the Cavaliers in the finals.
The Warriors, as everyone knows, were ultimately the joke at the end of the season. The prize at the end of their historic season slipped right out of their hands as they blew a 3-1 series lead to the Cavaliers in the NBA Finals.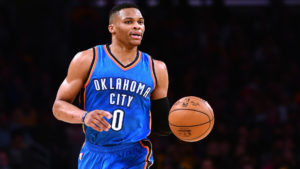 Fast-forward to the summer, and Kevin Durant made it known he will not be returning to the Oklahoma City Thunder. Instead he will be taking his talents to the Bay to join the Warriors. Westbrook had no choice but to put on a performance that this NBA has never seen before – quite possibly the most prolific regular season to ever occur. Scottie Pippen said, "It's the greatest season I've seen." That's high praise coming from the guy who played right next to the GOAT.
Westbrook can further prove his case for MVP by guiding his team through the playoffs. His first test will come in the first round against former teammate and MVP candidate James Harden. This will be a tough matchup for the Thunder as the Rockets are coming into this series with a deep team. Shooters like Ryan Anderson, Eric Gordon, and Lou Will, plus the defensive presence of Patrick Beverly and Trevor Ariza could be a tough match up. Hopefully Westbrook can take his team the distance to make for an interesting postseason run.

https://www.youtube.com/watch?v=c43ure67Ybw