WEST LONG BRANCH, N.J. – Mac and cheese has become a staple for the average college student diet. It's creamy deliciousness, plus its low cost, and easy preparation make mac and cheese the ideal college meal. But eating plain old mac and cheese for dinner 5 nights out of the week can grow old fast. So, instead of ditching the box altogether, why not give your mac and cheese a little extra flair?
One night, after a long day of class and work, I stumbled through my kitchen with hunger pangs kicking around my stomach. I wanted food, in the quickest way possible. I pulled out a box of Annie's White Cheddar Mac and Cheese, my personal favorite boxed mac and cheese, and a light bulb clicked on above my head. I decided this mac and cheese needed some help, so I dove into my fridge to see what I could conjure up.
Considering I'm a vegetarian, vegetables seemed like the obvious choice for ingredients to add to my mac and cheese. Though selecting which vegetables was tricky, since not everything mixes well with cheddar. I ended up choosing some classics – broccoli, onion, mushroom, and tomato – that I thought would blend perfectly with cheddar's bitterly sweet flavors.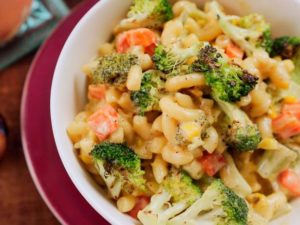 By adding a few vegetables to your mac and cheese, you can create a more wholesome and complete dinner option out of a cheap meal. Stir-frying vegetables takes hardly any time at all, so this entire recipe can be whipped up in about half an hour – leaving you plenty of time for studying, or procrastinating, if you're like me. If you're looking to feel a little better about guzzling down a huge bowl of cheesy goodness, then this recipe is for you.

Veggie Cheddar Mac and Cheese
Serves 2

Ingredients
1 box mac and cheese (I used Annie's White Cheddar)
Olive oil
Onion
Broccoli
Mushroom
Grape tomatoes
Spinach
Salt
Pepper
Garlic Powder
Butter
Directions
Make mac and cheese according to box directions. Set aside.
In a medium skillet, heat up roughly a tablespoon of olive oil. Add onion, broccoli, mushroom, and grape tomatoes.
Add salt, pepper, garlic powder, and stir. Cook on medium-low heat for 10 to 15 minutes.
Add spinach, and cook for an additional 2 minutes.
Add mac and cheese and stir. Add butter, and stir-fry for roughly 3 minutes.
Serve, and enjoy!

Watch the video below for a step-by-step tutorial, and a better idea of what portion sizes I used.
https://www.youtube.com/watch?v=4BIpXC2XRvY&feature=youtu.be