West Long Branch, N.J. — On Friday, December 8, Monmouth University's A Cappella Group, the Sea Sharps held their winter showcase at Lauren K. Woods Theatre. The show was scheduled to begin at 7:30pm but started a few minutes later, and ran for about an hour. There was a ten minute long intermission.The tickets were $5 and the proceeds would be used for the group to attend a competition during the spring semester.
The audience consisted of students, family members, and professors. The show did not sell out, but there still was a decent turn out.
A Cappella groups sing covers of songs without any instruments or special effects. Only four microphones were used to pick up the sounds and voices of the members. The group is made up of 16 people, ranging from freshmen to seniors and majors from chemistry to music education.
The Sea Sharps performed 11 songs throughout the night such as Shark In The Water by V V Brown and a mashup of Into You by Ariana Grande, Talking Body by Tove Lo, and Fools by Troye Sivan.The Sea Sharps provided a program to all attendees that detailed each song, the arranger, the performer, and the beat-boxer.
Most of the songs were accompanied by choreography that added to the music. The last song performed before intermission, Just For Now by Imogen Heap, included a bit of a comedic moment when the members left the stage in groups as the lead sang the line "get me out of here" over and over again. She was eventually left alone on the stage looking confused before she finally put down the microphone and left the stage as well.
The microphones that were used were not wireless making for some comedic and worrisome moments when the chords were getting in the way of the performers. The Sea Sharps took it well and announced that their next performance would include wireless mics.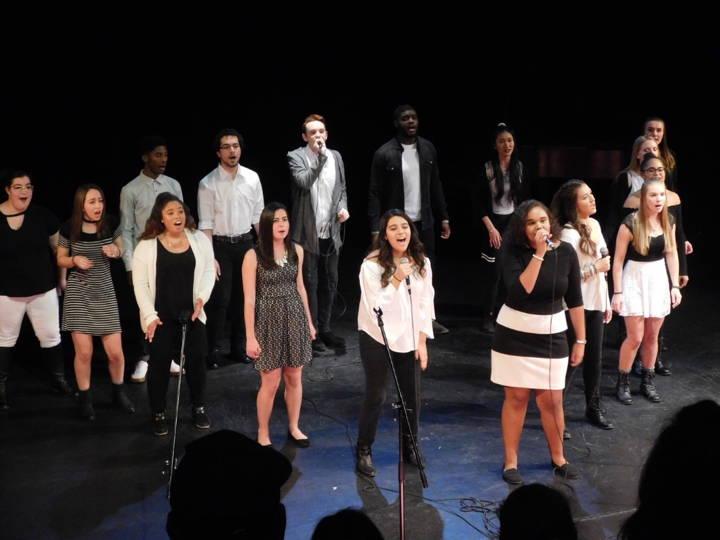 Brianna D'Ambrosia, a senior marketing major, said, "I loved the show! I think A Cappella is so cool and I wish I could sing and be part of the group."
In between songs, one of the members, Evan Kudish, a senior music performance major, announced that the group was accepted to compete in the International Championship of Collegiate A Cappella March. The event will be hosted by Varsity Vocals at Monmouth University. This will be the first time the ICCAs will be held at Monmouth.
The musical director of the group, Aaliyah Jordan, said " I am very happy with our performance tonight! Now I am excited for ICCAs."