West Long Branch, NJ (The Verge)– On Friday, April 6, 2012 Monmouth University students raised $1,500 for the Kortney Rose Foundation (KRF) at the 3rd Annual Global Understanding 5k to help fund research for children with brain tumors. The event took place at Monmouth University and the turnout was the largest thus far, with more than 100 participants.
All the participants did a great job and enjoyed running for such a wonderful cause. David Wong was the first man to finish in 19:07 and Monmouth University student Jenna Intersimone was the first female to finish with a time of 21:25. The event was a huge success and a great way to end the Global Understanding week at Monmouth. "I think it is so great that individuals could take the time and help raise awareness about such an important cause. All of us can help contribute to funding research for pediatric brain tumor treatment and those who ran should be proud of themselves," stated Monmouth University student, Gab D' Acunto.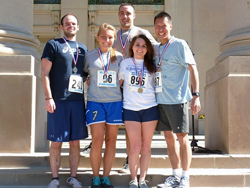 The Kortney Rose Foundation was created to help raise awareness about pediatric brain tumors and help fund research to find a cure. Kristen Gillette, founder and president of The Kortney Rose Foundation said, "We are so grateful to the Monmouth campus community, and beyond, for their support of this event to Help Get Brain Tumors Off Kids' Minds." Enhancing the quality of life of children with brain tumors requires access to excellent specialty care, clinical trials, follow-up care, and rehabilitative services. Improving the outlook for these children requires research into the causes of better treatments of brain tumors. The goal is to find a balance between the best available treatments with the best quality of life (KRF.org).
This year's convention was titled "Freedom, Sustainability, and Security: Creating Interconnected and Inclusive Communities." Monmouth University's Global Understanding Convention included over 75 events such as the opening keynote address, presentations, films, posters, activities, and the 3rd Annual 5k  pertaining to global topics in our world. Monmouth encourages students to learn about global issues so that they too can inform others and be the leaders of tomorrow.
For information about the Kortney Rose Foundation, ways to help fund research for pediatric brain tumor treatment, or more about Kortney Rose visit www.thekortneyrosefoundation.org.