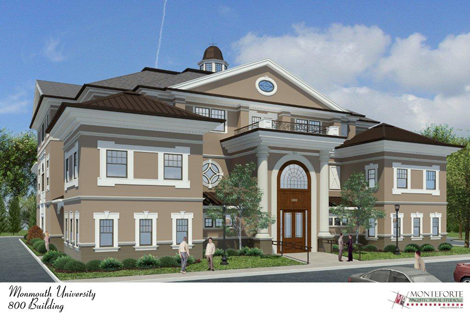 West Long Branch, N.J. (The Verge) –If you have been on the Monmouth University's campus lately I am sure you have realized the construction taking place.
This past summer the 800 building was demolished in order to make room for a more modern and renovated art building.
I had the pleasure of speaking with President Gaffney on the upcoming construction. He assured me that the building is expected to be complete in Fall of 2012, but will most likely open it's doors to students in the 2013 spring semester.
The President also said the name of the new art building will be announced within the next few weeks before the May 16th Commencement.
Monmouth student and Graphic design major, Rachel Durante said, "I am excited because it will give more of a community to the Art majors at Monmouth." Durante said didn't mind the 800 building but it was ready for an update.
Graphic design minor, Kelli Ercolano said that she gets most of her work done in the recently renovated Edison Hall computer labs. Equipped with 7 brand new Apple IMacs and colored printers.
The new art building is estimated to be 20,340 square feet, three-story floor gallery made from stucco, concrete and steel. The new building is intended to replicate the previous 800 building according to Monmouth's website.