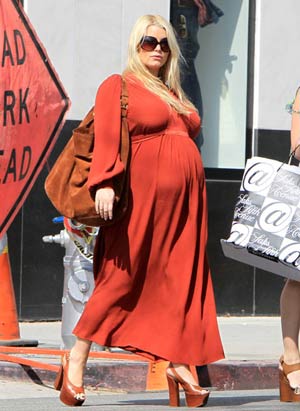 West Long Branch, N.J. (The Verge)—A recent  trend amongst celebrities lately has been devastating news such as divorces and DUI's, however, another popular trend has been celebrity babies!
Finally the anticipated arrival of Jessica Simpson's new born Maxwell Drew Johnson is the latest news!  Music artist Jessica Simpson announced the arrival of her baby girl Maxwell earlier this morning.
According to popular celebrity news blog TMZ, Jessica Simpson stated, "We are so grateful for all of the love, support and prayers we have received. This has been the greatest experience of our lives."
Jessica Simpson gave birth to baby Maxwell who weighed 9 pounds 13 ounces and measured in at 21.75 inches in a hospital maternity suite that cost the wealthy pop -star $4,000 dollars a night. The luxury suite offered flat screen TV's, chilled juices on ice, muffins, manicures and pedicures.  Must be nice!  I think it would be safe to say that Maxwell had a princess arrival.