(The Verge) – After a tough year in 2012, the Philadelphia Phillies are looking to rebound and fight towards the top in the National League East division.
There are a few new prospects that are looking promising this year, such as Ben Revere. However, there are many players who are injury prone this year. These injuries are  for the Phillies because if a big name player gets injured, their replacements may not be able to field or hit as well as these players can.
Let's take a look at this year's main starters and break them down:
Cole Hamels is going to be the primary pitcher for the Phillies this year. So far, Hamels is having a shaky 0-2 start, after  achieving 17 wins last season. Hamels is going to need to be on his A-game because the starting rotation this year is not looking to be as strong as in past years.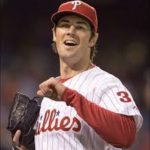 Roy Halliday is a big concern for many Phillies fans this year. The 36-year-old veteran often called "Doc" by many fans had a rough first game. He won his first game yesterday against the Marlins and has a 7.63 ERA,  In an interview with ESPN, a scout said "If you didn't know it was Roy Halladay out there, you would say, 'This guy looks like a journeyman." Halliday is going to need to prove that his age does not show his pitching if he wants to continue his MLB career.
Cliff Lee is looking to have a strong season. So far, he has been pitching well with a 1.08 ERA and a 2-0 record. Lee has a great focus while pitching and knows where the sweet spot is for left-handed hitters so that they can strike out. After having only a decent season last year, fans are excited for Lee to be back in the zone this year.
After a rough opening day, Kyle Kendrick is looking to hold other teams back. Kendrick has gone 1-1 so far with an impressive .327 batting average. He currently has a 5.40 ERA.  Although the starters have been contributors to the Phillies lack of success last year, the relievers and and closers have been the real issue.
1st Baseman Ryan Howard will experience some trouble this year, coming off of a rough 2012 season. After getting injured in the final out of the 2011 NLDS against the Cardinals,  Howard is currently 33 years old, and in a few years will become a veteran player for the Phightin's. As a clean up hitter, he only had 14 home runs. So far, he leads the team with 12 strike outs
Out of all of the everyday starters, 2nd Basemen Chase Utley has performed the best. He currently has a .391 batting average and a .421 on base percentage. Utley is a light in a dark tunnel for right now, and it is expected for him to keep the team on his back and have others also get out of their slump. He has went 7/15 in his first at-bats. For the first time in two years, Utley has been showing that he is back to his old self.
SS Jimmy Rollins had one of his best years in a long time in 2012. He had 30 stolen bases, 158 hits and 102 runs scored in 2012. This year, Rollins is falling behind this pace with a .261 batting average, and a .321 on base percentage.
After spending 13 years in Texas with the Rangers,  3rd baseman Michael Young hopes that the change of teams can help him have a better season. He ended last season with a .277 batting average, his lowest since joining the Rangers in 2001.He currently has the highest BA on the team at .375, and looks promising so far.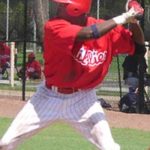 RF Dominic Brown looks to shine as a starter in 2013. Although Brown has been a member of the Phillies since 2010, he has not been a starter because of now Red Sox RF Shane Victorino. Although he only holds a .233 batting average, his defense skills are good. He does still need to polish a few things on defense. This year is Brown's biggest shot at becoming well known to Phils fans.
In CF, newcomer Ben Revere is going to have some big shoes to fill. Revere comes to the Phillies after spending three years with the Twins. Ben Revere is a young player, one of the main things that the Phillies need.LF should be split between John Mayberry Jr. and Lance Nix. Mayberry Jr. is leading this season with a higher on base percentage and batting average.
Eric Kratz is filling in the catcher position while Carlos "Chooch" Ruiz sits out 50 games for steroid abuse. Let's just say that Phillies fans are counting these days quick, as Kratz is batting .207 and struggling to get on base at .200
Although the Phillies are looking better this year than last year, this may be the last year for some veterans. The Phillies have some work to do this season if they want to be a contender. A thing to keep in mind is that the Phils are usually better after the All Star Game. The Phillies do have a shot in the wild card race this year, but have to get rid of players who are not performing offensively or defensively. In addition, they must sort out issues in the bullpen with relievers and Papelbon. My Prediction: 3rd place in NL East with a 88-84 record. This would have the Phillies just missing the wild card this year.