(The Verge) – A sampler is a compilation of songs that aren't really related, but serve to introduce audiences to an artist. Tyrone Wells' sampler introduces listeners to his music by picking his eight strongest songs, and they kind of knocked my socks off. That's how Wells landed himself in this week's Free Music Friday.
Wells' music was vaguely familiar to me because I'm a bit of a television addict. The Washington state native's song "Sink or Swim" was heavily featured in promo spots for "Grey's Anatomy" a few years ago, and his songs have actually appeared in over 50 movies and television shows, including "The Vampire Diaries" and "American Idol." It's easy to see why.
The thing about songs in films and shows is that you're not really supposed to notice them. Sure, you know that music is playing but your focus should still be on the characters. Wells has a certain emotive quality that comes with his music. It makes it easy to set the tone with arrangements that aren't overly complicated, but still communicate a certain emotion.
"Need" is aptly titled. Wells sings, "I need you/Need you baby/This craving makes me crazy/I'm dying inside." Lyrical genius? Not quite, but it's everything else that's working for the song. Wells' voice sounds so desperate for this person, but he demonstrates his vocal range at the same time. More impressively, the song was taken from a live album. Wells' voice sounds perfect, and really different from every other singer/songwriter. It's just powerful, and this is where words are going to start to fail. Listen to it.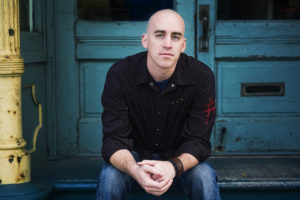 He's also surprisingly positive. Wells is a father and a husband, and it seems like he isn't into writing about tumultuous angst-ridden relationships. In "A Beautiful Place to Be" he sings, "Til everywhere around me all I see are different shapes and shades of beauty/I open up my eyes, and I see all around me/You make the world a beautiful place to be." It's just nice to hear from a singer/songwriter who isn't only drawing on the negative experiences in life.
Not to emphasize his age, but Wells has been playing music for about twenty years. He has figured out what works, and when it comes to instrumentals, Wells keeps it simple but catchy. He's a man with a guitar for the most part, and he's often joined by drums, piano and/or bass. That's the appeal, though. He doesn't need to be doing anything crazily innovative because nothing should be distracting from his voice. The songs get stuck in your head before you know the lyrics, though. I was humming "Head Over Heels," a song I didn't quite know, throughout the day. If that isn't the sign of a catchy song, I don't know what is.
It's a welcome change from the usual singer/songwriter fare, and it's certainly a great introduction to the artist. Check out NoiseTrade for his free sampler and check out his Facebook for fall tour dates.