(The Verge) – Free Music Friday has a time limit this week. Caleb Hawley has released a super fantastic 5 song sampler for free on NoiseTrade, but you have to download it by Tuesday if you want it without paying for it. After you give him a listen, I'm not really sure why you would wait anyway.
Caleb Hawley is a New York-based singer/songwriter who describes his music as "folk infused rock 'n' soul." I was kind of at a loss for words as to how to describe his genre because he definitely has his own sound. He sounds (and looks) a little retro, with obvious influences from funk and soul, but he also has the typical singer/songwriter vibe mixed with that.
"Bada Boom, Bada Bling" — a relatively upbeat collection of songs. It starts off with the title track, "Bada Boom, Bada Bling," which, despite its title, sounds nothing like a cheesy Italian mob movie (thankfully). It's actually a song promoting female independence…and yes, Caleb Hawley is a man. Hawley sings, "I don't need to be in denial/She can take care of everything Hillary Clinton style… Bada boom, bada bling/She can buy herself a diamond ring."
It's easy to see why this is the title track. First of all, it's catchy. I was humming the song for hours after listening. The song is upbeat and playful. I especially enjoyed when Hawley spoke over the music to add, "That's one sexy business suit you're wearing." Also, what girl isn't going to swoon over a guy who is cool with his significant other being massively successful? (No really, listen to the whole thing. I promise he isn't just being a freeloader.)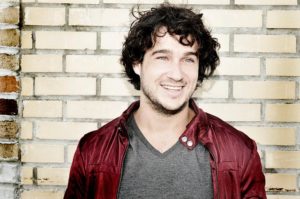 Next is "Little Miss Sunshine," and you should get ready to swoon again, ladies. He wrote it for his young niece who was being bullied at school. Hawley sings, "You don't have to be a bomb shell beauty queen/Blonde barbie girl like all those girls you lookin' up to/Cause I like your little miss sunshine sometimes out of line." Okay, it's not exactly a new concept, but the lyrics are really cute (check out the cool lyric video) and the music just works.
Hawley's "rock 'n' soul" is really infectious. The instruments just all work perfectly, from the cool drumline-esque intro to the trumpets and the soulful piano. The intro reminds listeners of a school marching unit, which plays into the themes of making it through school while dealing with bullies. At the same time, though, the song doesn't feel too young. It doesn't sound like teeny bopper pop that I'd pretend I had on my iPod for kids I babysit. The song really hits the mark, and it's easy to see why Hawley chose it as a single.
Throughout the album, Hawley does really well instrumentally. In general, a lot of times songs are a little predictable. You can tell that they're going to repeat the same thirty seconds a few times until the bridge and then go back to that thirty second bit a few more times. I never knew what Hawley was going to do, though. In "Every Shade of Grey" he does these little riffs on the acoustic guitar that are fantastic and kind of pop up when you don't expect them to. Just when I think I've figured out Hawley's soulful vibe, the sampler ends on "Confession Time," which sounds like it belongs in a speakeasy in the Prohibiton era. It's great, and it give Hawley a sound all his own.
Plus, the American Idol castoff (he didn't make it past the Top 50 in the 2011 season) sounds great live. The third track, "Let a Little Love In," was recorded live. I had listened to the sampler multiple times, but it wasn't until I looked at the track name that I realized it was live. The boy can hit the high notes on the first try. It even gets just a little gospel as he adds a choir to back him up.
The sampler "Bada Boom Bada Bling" is available for free until Tuesday on NoiseTrade. Hawley is playing in Philadelphia on Saturday at The Clubhouse and in New York on Tuesday at Rockwood Music Hall. Check out his Facebook or his website for details on shows and his fall LP.