West Long Branch, NJ- The volunteers at the Monmouth Area Vegetarian Society (MAVS) are hosting a free fall vegan potluck plus a special presentation: The Experience of Parenting Vegetarian or Vegan Children. The event will take place at Monmouth University's Bey Hall, Room #201 on Sunday, September 29, 2013 at 1:00 pm. The event is free and open to the public.
Individuals who wish to attend this special presentation may contribute by bringing a completely vegan dish, an index card listing all the ingredients, and serving utensils. During the event, presenters Chris Hirschler, Ph.D., MCHEs and Jenn Quirk, a Monmouth University Health Studies major, will discuss information related to children who are raised on a plant-based diet. The research shared will be from preliminary findings from various parent and child perspectives from interviews conducted in 2013.
"These informative presentations and vegan potlucks are part of our educational mission. All guests, including myself, have all been introduced to many new, creative, plant-based recipes and areas of study. It is always very enjoyable to share healthy and delicious food, while at the same time getting to know members of the local community and learning from the presenters," said MAVS volunteer director, Mary Harris.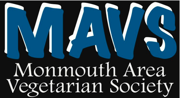 Anyone interested in attending can RSVP by emailing Mary Harris at mcharris@monmouth.edu. To learn more about MAVS, please visit www.monmouth.edu/wellness/MAVS.asp.
The Monmouth Area Vegetarian Society (MAVS) is a non-profit, non-sectarian educational organization. MAVS promotes healthy lifestyle & diet options and compassionate living. The organization also provides numerous educational resources to inform the public about the advantages of vegetarian diets. The organization features nutrition experts, health-care professionals, animal rights advocates, discussions on ethical and environmental issues, book reviews and film screenings to promote the organization's educational mission and goals.