(The Verge) – There's something so inviting about a shelf full of books.  It's like there are all these portals into different worlds sitting right next to each other ready to be discovered during your down time.  With all of the possibilities of worlds to explore, sometimes it can be overwhelming trying to figure out what book to read next.  Many turn to websites like Amazon.com and Half.com to navigate through the millions of titles that are out there, but there seems to be something missing; the experience.  Half of what many love about reading is the process of combing through rows and rows of books and getting a glimpse into the story that unfolds between the bindings.
For all of these traditionalists that still enjoy the afternoons spent digging for the perfect book, a trip to The Strand will be well worth the journey.  The Strand was founded in 1927 and is located at 828 Broadway, on the corner of East 12th Street in the East Village, New York City.  It is an independently owned bookstore that has become something of a pop culture reference, being mentioned in movies such as Julie & Julia and Remember Me.
So what exactly makes The Strand so special?  This flea market-esque store houses eighteen miles of used and new books.  Can't picture what that looks like?  Imagine over 2 million books piled from the floor to the ceiling on multiple floors.  It may seem a bit daunting to some, but with a coffee and bagel in hand, you can easily find any book you could ever imagine from a rare Victorian novel to the latest New York Times' bestseller.  The store also sells a myriad of "Strand" novelties such as coffee mugs, notebooks, and even a Kate Spade inspired tote bag (there are other basic totes as well for those who don't share in the Kate Spade obsession!).  If all of that was not enough, there are many events held at The Strand's rare books room including panels and readings.  In the past, guests have included acclaimed individuals such as James Franco and David Sedaris.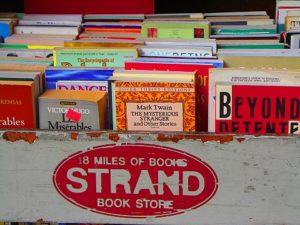 While The Strand has been around for over eighty-five years, the store has continued to grow with the changes of the times.  This month The Strand teamed up with Club Monaco, a clothing retailer owned by Polo Ralph Lauren, to educate Club Monaco shoppers about art and culture.  Club Monaco's newest specialty store, located on Fifth Avenue in the Flatiron district, will revolutionize the store by having a bookstore operated by The Strand right in Club Monaco's location.  The bookstore will offer customers over 700 titles and the irresistible comfort of a bookstore.  This will be the third location that The Strand operates, as there is a Central Park kiosk at the corner of Fifth Avenue and East 60th Street in addition to the flagship location.
No matter which location you visit, The Strand is a must-see for all book lovers and the perfect way to spend a Saturday or Sunday!  Just be sure you have snacks ready to go as you'll be there for a while!