(The Verge) – The one year anniversary of Superstorm Sandy is just around the corner. The storm ripped through the East Coast October 29, 2012. Sandy took 120 lives along with the destruction of millions of homes and business' with winds up to 150 mph. The destruction Sandy left was devastating and many people throughout the area are still recovering nearly a year later. New York City subway stations were completely filled with water. More than five million people were out of power for days some even weeks after the storm throughout the area.
Famous places on the Jersey Shore such as Seaside Heights and Long Beach Island were left underwater. Seaside took another hit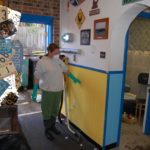 Earlier this fall when a fire destroyed the boardwalk yet again. Not only is the image of the roller-coaster in the ocean engraved in our heads, but added to that is the smoke filled sky and the burnt remains of the businesses that make up the Seaside Park section of the boardwalk. Chicken or the Egg's tables and chairs floating will forever haunt people who spent summers growing up down the shore. Seeing photos of the famous Seaside roller-coaster in the ocean is something that will stick in people's heads for years and years to come. The cast of the famous Jersey Shore donated time and money to the restoration of the boardwalk they owe their so called "fame" to. People from all over the country came to the aid of New Jersey in hopes to restore the shore. With the help of many people and non-profit organizations like the Red Cross, New Jersey began to get back on its feet, slowly but surely.
Even through all of the heartache and destruction that Sandy caused, on the one year anniversary we will all remember the damage that Sandy left us. We are strong and we will rebuild the Jersey Shore. Some people claim Sandy was the "100 year storm". And in 100 years, New Jersey will be stronger than that storm.