WEST LONG BRANCH, N.J. – National Poetry Award recipient, Anna Journey performed selections of her work as a part of Monmouth University's Visiting Writers Series on November 14.
Journey's stop at the university, was part of a two-day mini speaking tour (which also includes a date at NYU) to promote her latest book of poems Vulgar Remedies, which was released this past August to glowing reviews.
The Los Angeles Times, Publishers Weekly and even filmmaker David Lynch, whom many reviewers have compared her dark vision to, have praised the unique work of Journey, which according to poet and Monmouth University Professor Michael Waters can be described as "smart, funny, erotic and moving. She writes out of all aspects of her personality."
Associate Dean of Humanities and Social Sciences Michael Thomas, who created the Monmouth University Visiting Writers Series in 2005 and is in charge of booking the talents for these events, was especially excited about having Journey speaking at the university. "I'm always interested in poets who could bring a real original voice and she is one of them," said Thomas. "She is wildly inventive and loves her craft. She has a great ear, she can hear language in ways that many poets sometimes don't. She is a beautiful poet in many ways."
The event was filled to near capacity, with Thomas' professional poetry class filling up about half of the audience. Thomas opened the event and introduced Journey to the crowd. Journey opened her set, telling a short story about her dream from the night before, where her mouth was sliced at both ends much like Heath Ledger as The Joker in Batman: The Dark Knight , except with her tongue dangling from her mouth. She jokingly stated that the event was already going better than her dream. The description of her dream was an effective way to set up her style of poetry for the rest of the event.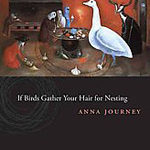 For the next half hour, Journey read through a plethora of poems from her latest book, as well as her 2009 book If Birds Gather Your Hair for Nesting. Prior to each poem, Journey would give a bit of backstory behind the poem or its title. Before reading the poem Lucifer's Panties at Lowe's Garden Center, she explained that the poem was inspired by her time working at a Lowe's Garden center as a teen intertwined with her mother's love of serial killers.
Journey's borderline absurdist sense of humor also glowed through in between her poems, as she discussed the antidote for living a long life, which happens to be eating nine gin soaked raisins a day, then going into reading a completely unrelated poem.
After her poetry set was finished, Journey conducted a Q & A session with the audience. One student asked Journey; why there were so many references to sucking eye balls in her poems (There were three separate poems where this was referenced to be exact). She responded by saying it was from the point of view from a certain character that represents adolescent sexuality and that the idea of licking or sucking eyeballs is a "grotesque farce."
The Q & A session continued with Journey telling the audience about her mother's serial killer obsession. Journey stated that her mother's idea of dinner conversation is telling the tales of Ted Bundy, Charles Manson and the woman whose face was ripped off by a chimpanzee. Journey also went on to say she always reads out loud, which helps her write by ear.
The highlight for most of the crowd was when Thomas asked Journey to recite the Sylvia Plath poem Lady Lazarus. Journey stated in the session that Plath is a hero of hers and proceeded to recite the poem in near entirety off the top of her head. The Plath poem proved to be Journey's finale to her engagement at Monmouth.
"I liked it. It was interesting to hear that she writes her poems by ear and was extremely impressed to see her recite Sylvia Plath. We are learning about Plath in class, so it gave me different feel to what I was already learning." said Shawn McBride, a senior currently enrolled in professional poetry.
However, other students were confused by Journey's unique style of writing, yet still enjoyed the overall presentation. "I thought her stuff was really weird. I didn't like it. I did enjoy her reading of Sylvia Plath though," said Raven Brunson, a senior.
According to Journey herself, she found the overall event was a giant success. "I thought it went really well. I felt good about the energy in the room and the audience seemed real generous and I always love an excuse to recite Plath, so that was a rare treat," stated Journey after the show had concluded.
Journey stated that she is working on a third manuscript of poems tentatively entitled Reverse Cowgirl, a libretto for an opera based on the life of Plath and is also working on some non-fiction essays.
As a poet himself, one of the greatest joys of putting together the Visiting Writers Series for Thomas, is having such a unique poet on the bill and hearing the reactions from those were non-poetry fans. "I love it when people tell me 'Oh I've never been to a poetry reading before' and Anna is the perfect poet to introduce readers and listeners to understand what is happening in American Poetry right now."
The next Visiting Writers Series event takes place on March 25 and will feature President Obama's inaugural poet, Richard Blanco and will be followed by an event on April 24 with Louise Gluck, who has been published since 1960.