WEST LONG BRANCH, N.J. – Hanukkah came early this year as Matisyahu's annual celebration Festival of Light began Nov. 30th. Brought to campus by Monmouth University's Center for the Arts, Matisyahu lit up Pollak Theatre on Dec. 5, with an acoustic evening performance.
Matthew Miller is known by his Hebrew name and stage name, Matisyahu. Billboard.com reports that Matisyahu's debut in 2004, with the album "Shake Off The Dust," showed audiences a musician much different than the one seen at Monmouth University. Matisyahu entered the performance sphere as a Hasidic Jew, who dressed in a black suit, a broad-brimmed black hat worn over a yarmulke, and complete with a full beard. Similarly to his performances today, however, Matisyahu performed songs with reggae beats, and energetic raps about traditional Judaism.
Currently based in Los Angeles with his family, Matisyahu released his most recent album in July 2012 titled "Spark Seeker". This new studio album introduces a new approach for the vocalist and songwriter. "My musical tastes are all over the board," Matisyahu stated in reference to his newest release. "And, besides, my music has never been about the outer garment. It's about searching out inspiration wherever it lies. This album is about seeking that spark within," he added.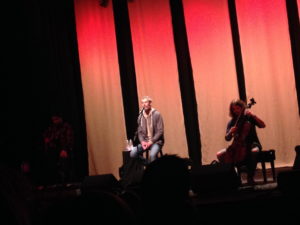 Matisyahu's music has a taste of many different genres that a wide audience can enjoy. The acoustic setting at Pollak Theatre showcased this expanse of sounds very clearly, as the audience sung and nodded along to traditional sounds complimented with beat boxing and talented accompanists on the guitar, bass, cello, and even a guest performer who came all the way from Jerusalem, sax player Daniel Zamir.
Monmouth Student, Rachel Kenny, had previously heard a few of Matisyahu's songs, and really liked what she knew. Because of this, she was very excited when Monmouth announced that Matisyahu would be playing on campus in Dec. "Because it was an acoustic set, I really was expecting the music to be much more relaxed, and maybe less exciting than his normal songs. When he started beat boxing, and his band started making these cool jams, I was definitely taken aback in a good way. I couldn't help but to dance along in my seat."
This acoustic evening was performed in a relaxed setting, as Matisyahu produced mellow sounds with thoughtful messages for the audience. Opening with soothing sounds like "Live Like a Warrior," the crowd was eased into the music, before the beat steadily picked up with songs like "Fire of Freedom," which featured fast, rhythmic beat boxing and rapping, complimented by enthusiastic clapping from the audience.
Also in the audience, Monmouth student, Matthew Fernandez, was drawn to see Matisyahu because of the acoustic set he would be performing. "When the show first started you could easily see the energy the performer and his band were giving off; he really just hit the audience with vibrant beats. The reggae genre went well with the acoustic, I could hear progression of the instruments but most notably would have been the cello. This was a small concert where a person could just sway back and forth in their seats to the rhythm," said Fernandez.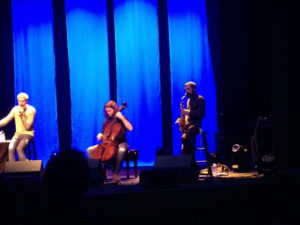 Another audience favorite was "King Without a Crown," from Matisyahu's 2006 album titled "Youth". By far, the top two songs of the night were "Jerusalem" and "One Day", two of Matisyahu's most well-known hits. Zamir was featured for both of these songs, and the addition of saxophone to the band only excited the crowd even further. During "Jerusalem," the Theatre lit up with phone screens recording the performance and many voices singing along added to the blend of sound.
At the end of the performance, Matisyahu graciously thanked the crowd for attending, and after many cheers and protests, returned for an encore number. The night closed with "Sunshine," another popular song off of the recent album "Spark Seeker". Requests were yelled out throughout the performance, and the crowd pleaded for more encore songs, but Matisyahu joked, "We can play for hours, but you have class tomorrow…maybe."
The crowd left in a buzz of excitement after such a dynamic, successful show. Matisyahu offers a unique blend of sounds that appeal to a wide variety of tastes, and which promote wholesome, meaningful messages. To learn more about Matisyahu, check out his website, and take a listen!