WEST LONG BRANCH, N.J. – On January 4, twelve students and three advisors from Monmouth University began their journey to Port-Au-Prince, Haiti, where they would be working to help build a school.  I was one of those students and as I look back on the trip, I realize how lucky I was to be selected to travel.
Each of us were picked from a pool of candidates by Corey Inzana, Area Coordinator of Willow and Pinewood Halls and leader of two Alternative Break trips. Inzana has done a number of service trips along with his wife Kristin and they were our rocks throughout the trip.  They acted as our leaders, nurses, friends and sometimes even therapists. Without them, the experience would not have been possible or half as fun.
Of the eleven other students that I traveled with, prior to leaving for Haiti, I knew a little about each. There were some I knew from work, class or organizations, but  there were also some that I only knew by name.  After returning from Haiti, I can say that each of the eleven people are my friends and are probably the only people who will ever truly understand the sincerity behind the words I speak about my experience.  There is a certain bond you build when traveling with someone and for me, I was able to have that bond with eleven diverse, caring, funny, strong, crazy and amazing people.
Before leaving for Haiti, I was honestly terrified and completely unsure of what I had gotten myself into.  I had never taken part in a service trip and had little travel experience outside of the U.S.  However, when I learned about the work that was being done in Haiti I knew that I wanted to take part in something that was unlike anything I had ever done before.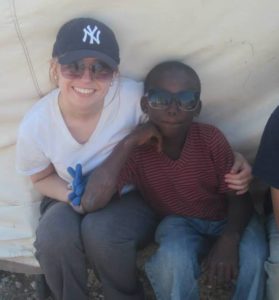 Our group worked with Cross to Light, a Christian non-governmental organization whose mission is to "serve the people of Haiti in Jesus' Name in this Spiritual and physical healing."  Our mission was not faith-based, but rather education-based.  We worked at the Destiny House, a home for boys that currently houses thirteen young men who have been taken off the streets in order to try to give them a better life.  These boys have faced more in their eight to fourteen or so years of life than many of us will ever have to endure.  The Destiny House is led by Rev. Garry St-Hubert, also the senior pastor at Destiny Church on the Rock, at the same location.  The school that we took part in building is yet another piece of St-Hubert's work and is open to all children.  The education is based in the belief that "the best way to fight poverty and social injustices is through education and learning," as stated by St-Hubert on the Destiny House website. Our goal was to help build a fence out of concrete and boulders that would help secure the school.
Each day, my group and I would wake up for breakfast at 7 a.m. and then head to the Destiny House, which was about a half hour away from the guesthouse we stayed in.  A half hour sounds like a pretty easy ride, however we soon learned that a half hour in 'Haiti time' is a bit longer than at home.  Our transportation was a "tap-tap," which is essentially a pickup truck with two planks of wood placed on the bed of the truck as benches to sit on and a roof overhead.  We would pack anywhere from eight to 14 people in the back of the truck each day and hold tight.  The roads in Haiti are difficult to explain as many, to us, did not even seem to be roads but rather clearings of land that cars drove on.  There were potholes and dips in the road in many locations, but work is being done to pave more areas for smoother travel.  As much as the tap-tap rides were not the most comfortable form of travel, they were one of my favorite parts of the trip.  I was able to get a more genuine image of Haiti than I would have been able to had we driven in a bus.  We would pass tent cities that house hundreds of families and saw merchants lining the streets each day trying desperately to make a few dollars or gourdes, the Haitian currency, in the hopes of feeding their families.  The tap-tap rides also gave us all some time to talk about what we were experiencing and comment on our surroundings.
Arriving at the worksite almost felt like a movie every morning.  As our tap-tap rolled on to the Destiny House property, the boys who lived there as well as local children would run up to us and hug us.  Almost instantly each of the children would spot a camera or phone in someone's hand and ask to use it for the day.  One of the boys who made a dramatic impact on me (and whom I miss and worry about now that I am home), was named Emerson.  He was about twelve years old and had an attitude that could stop you in your tracks.  Emerson had been found cleaning cars to try to make a few dollars at 11 p.m. on the street in Port-Au-Prince by Pastor Garry and was asked to come live with them at the Destiny House.  Emerson was well known by our group because of his love of photography.  Whenever he spotted a camera he would run up to us and say, "Give me your camera."  If we told him no or said not right now, he would respond with "five minutes" and the camera would be gone for the next three hours.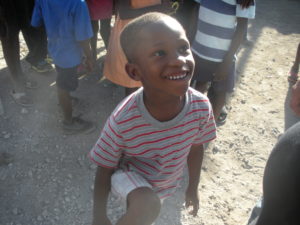 By the end of the trip, saying goodbye to Emerson was difficult for me.  Yes, he was an angry young boy who sometimes instigated arguments with the children from the surrounding community, but he had a sense of humor that had me rolling at times and underneath I could see how much he wanted to be loved.  On the last day we were at the work-site, our group sang a song we had learned in Creole, the national language of Haiti, to the children.  I was sitting on a bench in the church and Emerson began fighting with one of the other boys.  I pulled them apart and asked Emerson to sit down with me.  He sat down but left a bit of room between us.  I began to sing the song and showed him the lyrics sheet.  He moved closer to me and leaned in so that I could put my arm around him and he sang the song with me.  After, he sat with me for some time and joked with me.  I felt that through the week of being at the worksite and getting to know the children, I had been able to show Emerson that I was not a threat to him and just wanted him to be okay.  Saying goodbye to all the children on the last day was extremely emotional, but for me, saying goodbye to my little troublemaker Emerson was the worst.  I gave him the blue baseball cap that I had been wearing throughout the trip and told him to keep it safe for me.  He promised he would and told me he loved me and would miss me before we left.
Maya Angelou once said, "Perhaps travel cannot prevent bigotry, but by demonstrating that all peoples cry, laugh, eat, worry and die, it can introduce the idea that if we try and understand each other, we may even become friends." Reading these words just two weeks after returning from a place that has captured my heart and made such a big impact on me made me realize how true the words are.
Taking part in the Alternative Winter Break trip to Haiti was the most emotionally draining and invigorating experience of my life. I have a place in my heart for Haiti and its people that cannot be replaced by anything else. I do not think I can ever express how much Haiti has impacted me and made me realize how much can be done to better the lives of those living in severe poverty.  After going on this trip, I truly believe that everyone should take a week out of his or her life and experience something like this. It does not have to be in Haiti or even outside of the United States, but seeing a world that is so different from your own makes you realize that these people are exactly like you, yet they are continuously fighting to better themselves each day in the hope of escaping the poverty which affects so many. I know there is so much we can do for people who are less fortunate than us, but Haiti showed me what they are able to do for us as well. The people I came in contact with made me understand what is really important in life and the power of having a positive attitude. I wish that I could go back and thank each and every one of them for what they have done for me and maybe, one day I will.