WEST LONG BRANCH, N.J. – Although many think that "V-Day" is usually observed on Feb. 14, and is a celebration of love, chocolates and fluffy teddy bears, there is another event that is a little different. V-Day, not to be confused with Valentines Day, is a global activist movement that was created to end violence against females.
For many years, Monmouth University has taken part in V-Day by presenting "The Vagina Monologues" on campus. Boom Roasted Productions sponsored The Vagina Monologues this year, which took place on Feb. 10, in Pollak Theatre. All proceeds from the event benefited 180: Turning Lives Around and One Billion Rising.
According to the United Nations, one in three women across the world will be beaten or raped during her lifetime. Globally, one billion females experience this horrific violence. The Vagina Monologues help raise awareness of violence against women and girls and give them the courage and strength they need to take a stand against it.
The Vagina Monologues program explains that the event was first debuted in 1994 by Eve Ensler, who conducted interviews with women. The play addressed women's sexuality and brought to light cases of rape and abuse, that were often socially stigmatized and kept silenced. In 1998, Ensler created the V-Day movement, which allows her play to be performed each February, March and April to raise awareness of sexual violence against women and funds to put a stop to it.


This year's production of The Vagina Monologues was made possible by the performances of (as appearing in the program): Anna Chamberlain, Marcie Licker, Jackie Shugard, Kim Valdez, Chelsea Barreto, Liz Anderson, Brooke McCarthy, Jenn Barlow, Sam Myers, Megan Van Tine, Shayna Conde, Allie Phillips, Kelly Thomas, Danielle St. John, Mahalia Jackson, Jessica Rossi, Nicole Massabrook, Kristen Simnoelli, Heather Kelly, Professors Rebecca Anthony and Johanna Foster and Nick Zaccario.
The Vagina Monologues had two student producers this year, juniors Zoe Bulitt and Allie Phillips. Heather Kelly, Assistant Director of Student Activities for Multicultural and Diversity Initiatives and advisor for the event, announced that this year's Vagina Monologues successfully raised over $1,000 to contribute to the fight to end violence against women and girls.
Zoe Bulitt has been a part of The Vagina Monologues at Monmouth University for three years, and this is her second year as a student producer. This year proved to be challenging for the Vagina Monologues' participants because there were only two student producers and less time to rehearse compared to past years. Bulitt said that she is extremely proud of the performance, and knows that all the contributing members hard work really paid off.
"The Vagina Monologues are important to me because not only are we spreading awareness of violence against women and girls, but we are doing so in a creative way that I feel a lot of people can connect to," said Bulitt, "It's funny but it's also serious at times, and is told (from) so many different perspectives that everyone is able to find a connection."
Allie Phillips, another student producer, has been involved with The Vagina Monologues for nine years, ever since her freshman year of high school in which she has been an audience member, and has helped with the production/performances.
"The Vagina Monologues are more than just an awkward show. They stand for hope," said Phillips.  "Hope that things are going to get better. They stand for acceptance, acceptance of the taboo topic of the vagina that people rarely want to talk about. And they stand for inclusion, inclusion of every woman or girl who has ever been sexually abused, violated or harassed…of every woman or girl who has had a friend, family member, sister, daughter, mother…who has been a victim of sexual abuse of harassment,"
Danielle St. John, a sophomore at Monmouth University learned about performing in the Vagina Monologues through Phillips, who asked if St. John would want to participate in the event. This was St. John's first experience with the Monologues and she learned that it is an effective way to interact with many students on campus and raise funds for an important cause: "It's important to have them [The Vagina Monologues] because women are often perceived in a negative way," explained St. John.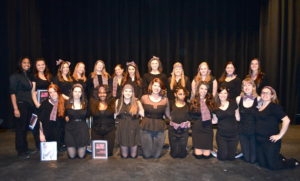 Following the Performance, Heather Kelly and Nick Zaccario began the "Questions" portion of the play. Using a survey of Monmouth University students, Kelly and Zaccario performed excerpts from songs that students responded would be "the theme song for their genitals". Featured songs included TLC's "Waterfalls", Rihanna's "Birthday Cake", and Journey's "Anyway You Want It".
The cast and crew of the event were proud to honor the Monmouth University Vagina Warriors. These women were celebrated for their contributions to the fight to end violence against and to enhance the lives of women and girls. Alexandra DeVito was recognized as a Vagina Warrior for her work as a school social worker as Sisters' Academy in Asbury Park and her tireless efforts to promote the good sexual health of her students. Louise Bosmans was distinguished as a Vagina Warrior for her work in continually promoting a positive environment for Monmouth Univeristy — for one, as a nurse practitioner with MU's Health Services, where she helped establish a program to give free sexual health checkups for MU students.
Even if you missed this year's Vagina Monologues, there are still ways to learn about local projects and programs that work to end this violence. "Anyone involved, or anyone who sees the show [The Vagina Monologues] should leave with the strength and knowledge that they can help stop violence against women and girls," remarked student producer, Allie Phillips.
For more information about the V-Day movement, visit their official website.