WEST LONG BRANCH, NJ- On Thursday April 2, Monmouth University students gathered in Wilson Hall to hear guest speaker Beverly Gooden tackle the tough topic of domestic violence. Gooden is domestic violence survivor, speaker, and most importantly advocate for change. The topic of domestic violence is not an easy one to discuss, but the lack of conversation is what Gooden hopes to change.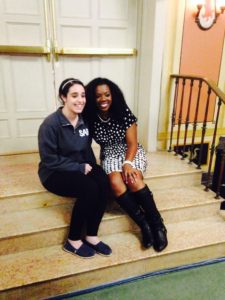 Gooden's candor was moving and the room fell silent as she began speaking. She invited students into her personal life by talking
about her own past experience with domestic violence. Her words were moving as she explained the nature of her relationship with a man she once viewed as being on par with prince charming.
Gooden spoke about why leaving a violent relationship is so difficult for many victims. When referring to her own relationship she explained "the math was in his favor, we had 27 beautiful days, and then 1 or 2 days of violence, but then 27 turned into 26 and 26 turned to 23, and the math was no longer in his favor".
The idea that domestic violence is not something to shy away from was reiterated throughout the event. In the United States alone, 24 people per minute are victims of physical violence by an intimate partner. Gooden informed the audience about the signs of domestic violence, reasons victims stay, and the topic of victim blaming.
The event highlighted the harmful affects of victim blaming and the importance of support for a victim. Gooden said, "It's really important that they know they will have someone who will be there for them. Don't abandon the victim because then all they will have left is the abuser. They need to know someone will be there when they are ready to leave." She reiterated the idea of support and claimed "empathy is going to move the movement forward."
Gooden is an admitted Twitter addict, and the site ended up being an unintentional platform for the beginning of her advocacy when in 2014 she created the hash tag #WhyIStayed. The hash tag instantly began trending and started an international Twitter discussion about domestic violence. The hash tag sent Gooden into the media spotlight. Since then Gooden's story has been profiled on Good Morning America, Dr. Phil, CNN and more.
Domestic violence is a difficult subject to discuss.  But with women like Beverly Gooden, starting a dialogue is getting easier.