WEST LONG BRANCH, NJ–An ordinance proposed in Deal, NJ to severely limit public beachfront parking and access was met with intense resistance recently by an overwhelming number of surfers, fishermen and concerned citizens who attended the Deal town hall meeting on October 9. According to an article on The Asbury Park Press, no Deal residents attended the meeting in support of proposed Ordinance #1124. In response to this immense resistance, Deal Mayor Morris Ades was forced to table the proposal indefinitely.
Proposed Ordinance #1124 would have required a permit to park on Monmouth Terrace, Monmouth Drive, Hathaway Avenue, Sydney Avenue, Neptune Avenue, and Roosevelt Avenue in Deal between the hours of 8 a.m. and 8 p.m. from May 1 to October 31. These permits would be available to residents only, a majority of whom reside in Deal only in the summer months. Many of these streets are popular surfing and fishing spots.
Most of these streets feature usable public beach access, which is rare in Deal. A recent survey taken by Will Kehoe of Citizens in Opposition to Beach Restrictive Access (COBRA) found that of the seven public beach access points in Deal, only one featured clear signage and unrestricted, acceptable public access.
"In Deal, it seems like I always have to climb across rocks and debris to get to the beach," said Monmouth University junior and avid surfer Will Saulsky.
Local Attorney Andrew Chambarry of the firm Gill & Chamas took on the responsibility of drafting a legal brief in opposition to this proposed ordinance. Chambarry started the Facebook group COBRA as well as a successful Change.org petition opposing the ordinance that has since received 3,324 signatures.
Chambarry cited several reasons why Deal was in the wrong in this situation, chiefly that Ordinance #1124 would restrict public beach access and violate the public trust doctrine. According to an article on NJ.com, Deal just recently accepted $38.2 million in taxpayer dollars from the federal government for a U.S. Army Corps of Engineers beach replenishment project. This has angered many locals, who feel their hard-earned dollars are being used for an improvement project that might not even be accessible to them.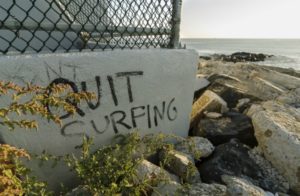 Chambarry also asserted that Ordinance #1124 would violate the public's right to access a traditional public forum, thereby violating their First Amendment rights to free speech and assembly.
"Americans go to their beaches to engage in many activities, including ones that demonstrate that beaches can be public forums," posited Robert Thompson of the Fordham Environmental Law Review. "They are deeply loved public spaces that are every bit as important to us as our city parks."
Mayor Ades and Borough Administrator Stephen Carasia maintain that these proposed restrictions were never intended to restrict beach access or alienate locals. They say the town was simply trying to help its own residents who complained about not being able to park in front of their homes in summer months. That said, this is not the first time Deal has proposed or enacted similar legislation to restrict beach access.
Throughout the early 1990s, Deal laws prohibited surfing in most of the town. According to an article on NJ.com, in one incident in 1993 a Long Branch resident was arrested and fined $200 for surfing in Deal. While these sorts of restrictions were lifted in 1994 and are long since gone, they suggest that the local Deal government and its wealthy residents habitually try to restrict public beach access in the town to maintain a more "exclusive" environment.