WEST LONG BRANCH, NJ–Leaving the house at 10:40 a.m. for an 11:40 a.m. class is the reality for the average Monmouth University student.
The university has set up several new additions for the campus this year, like accepting an overabundance of freshman, adding a new dining service, and altering the academic calendar. While these new additions will benefit the student body, one important part was overlooked–parking.
"The parking is so bad that I live 5 minutes away from campus and, in order to make it to class on time, I have to leave at least 30 minutes early," said junior commuter Meaghan Wheeler, who, like other frustrated students who also spend extra time searching for spots, could be studying, doing homework, or catching up on sleep.
To make things worse, throughout the past two weeks, several non-residential parking spots in lots 13 and 14, as well as areas in lot 10, have been coned off indefinitely for undisclosed reasons. Neither faculty nor students are permitted to park in those spots until the cones are removed. While it may only seem like a few spots, the space–and unfortunately, the time–adds up as drivers are forced to deal with the consequences when they arrive on campus.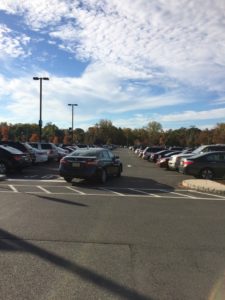 While there are an overabundance of students and faculty compared to parking spots, there are also additional university visitors and gym members who struggle to find parking in the limited lots as well.
Alumni and current students find the parking situation to be one of the worst features that come along with their beautiful school. The lack of parking on the Monmouth University campus has been a problem for years, and it will only get worse in the coming years as more students enroll.
The number of commuters at Monmouth is already high–4,000, according to the university website. But with a large freshman class, the commuter population will only rise as some are inevitably denied housing after their first year and are forced to commute from off-campus housing.
To allay student concerns and avoid scaring away prospective students, it would be better for a solution to be made sooner rather than later.
Unfortunately, the cost of building a parking garage–the most popular solution–is monumental. According to The Guardian Group, it costs an average $50 per square foot to construct a parking garage. This does not seem to be an option for the university due to such high costs.
On the other hand, the university only guarantees housing to freshman. Even with New Hall opened to sophomores, there is not nearly enough room. With that being said, an alternative to an expensive parking garage could be building a new dorm for second year students.
By doing so, the number of commuters would be reduced and the existing parking lots would be considerably less hectic. Having to account in for the cost of land, building, contractors, and much more is among the barriers in the way. Although it is a far shot, it is a plan that has the potential to minimize the parking problem.
Even with alternatives on the table, some wonder if this problem will ever be fixed. Others question and expect adjustments to be made in different places rather than one of the biggest areas at the university, as has been done in the past.