WEST LONG BRANCH, N.J.—Monmouth University's Shadow PR and Public Relations Student Society of America chapter held its first-ever workshop last Wednesday.
Assistant Director of Career Service Jeff Mass was featured as the keynote speaker of the event, which revolved around LinkedIn. Mass showed students a behind-the-scenes look at the business social networking site–especially useful when searching for careers and graduate schools–and explained how the site can be beneficial for upcoming graduates.
"Workshops are a new component of PRSSA this semester," said PRSSA President Deven McCarthy. "With LinkedIn being such a large component of networking and job searching, we thought it would be a helpful event for not only public relations majors, but for all majors."
Among other points, Mass emphasized the importance of using contacts while searching for a job position on Linkedin, completing profiles in their entirety, and highlighting recent work by showcasing it directly on the appropriate sections of a Linkedin profile.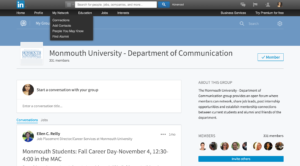 PRSSA also offered students the chance to take professional headshots for $3 at the event. McCarthy, as well as her executive board and some club members, took advantage of the great opportunity.
"It is extremely beneficial to have a professional picture on your LinkedIn account," said McCarthy. "It not only gets you noticed, but also changes the overall ambiance of your profile from college student to professional."
With LinkedIn being the world's largest professional network and having nearly 300 million active users, it is no surprise that it has emerged as an important, professional tool in the past few years.
Creating a LinkedIn page can be a little challenging, but its perks seem endless in the twenty-first century job market. The site allows its users to connect with professionals on a global scale, advertise job opportunities, provide successful tips, and develop a long list of connections.
"The purpose of signing up and creating a LinkedIn profile is to construct your networking before graduation," said Mass. "So when you're ready to start your job search, you will have an ample amount of time to network with alumni and industry specific professionals."
"A considerable network on LinkedIn will open up new opportunities for you by providing introductions to individuals at various organizations," he continued.
Luckily, workshops like the one put on by Shadow PR and PRSSA are meant to help in this area. McCarthy said she was pleased with the workshop and considered it extremely successful for the first of its kind. PRSSA hopes to host more workshops throughout the semester and continue to open them to all Monmouth students.
Students who are interested in Shadow PR and PRSSA should know that the groups hold meetings every Wednesday during club hours on the upper level of Plangere. Information about upcoming events and workshops can also be found on the PRSSA Facebook page.
They can also schedule an appointment with Career Services, located in the lower level of the Student Center. The office, which can provide more information about the benefits of Linkedin and help perfect student profiles, can be reached by calling 732-571-3471 or emailing careerservices@monmouth.edu.