WEST LONG BRANCH, N.J.–If you're like me, you've been keeping a close eye on winter weather forecasts and checking ski resort websites regularly for opening day information, all in anticipation of the 2015-2016 ski season. This past weekend, that anticipation reached its peak as many mountains in the northeast opened their slopes to skiers and riders for the first time this season. Mountains including Tremblant, Mount Snow, Gore Mountain, Whiteface, Killington, and Big Boulder saw crowds of skiers and riders show up ready to go and shake the rust off. Being so early in the season, most if not all snow at these mountains was man-made, but that didn't stop anyone who was eager to take some runs.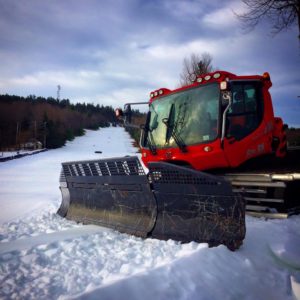 One of the mountains that is somewhat near Monmouth University and that opened this past weekend was Big Boulder Park, or Boulder for short. Boulder is a small mountain in northeast Pennsylvania known for its terrain parks. The mountain was able to make enough snow to open one trail with about fifteen park features mainly including boxes and rails. Boulder kept this run open Friday through Sunday from 8 a.m. to 10 p.m.
I got to the mountain at about noon on Sunday and the crowd was really getting big. With only one slow chairlift, my season was off to a painfully slow start.
Temperatures at Boulder dropped below freezing the night before my arrival and climbed to almost fifty degrees while I was there. This meant a weird mix of spring conditions and ice. If you could navigate the icy patches, slushy patches, and falling riders, the features were actually pretty decent and the overall setup was very fun.
However, due to the soft snow, most landings and take-offs for rails and boxes were very rutted and constantly needed park crew attention–and they were out there regularly. By sundown the crowds had left and I finally was able to get some runs without constantly being cut off by other riders.
"Despite being really crowded with soft spring conditions, it was good to get back on the snow and ride a fun park setup," said Rob Wendel, a Monmouth University senior who also skied Boulder on Friday.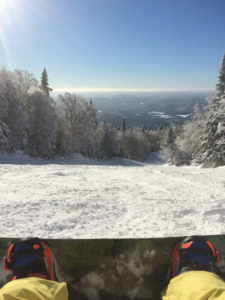 Being far south, Boulder has closed again and it is unclear when it will officially open for the season. The coming week's forecast for that area of Pennsylvania predicts some cold nights perfect for snow-making, but it also predicts rain and warm days. Looking further north, forecasts look colder and therefore better for skiing, but they still aren't the full winter weather skiers need to start the season. As of now, those itching to ride snow have to keep waiting for the weather to get more consistently cold.
The good news is that this year's winter is predicted to be one of the strongest El Niño winters on record. According to the National Oceanic and Atmospheric Administration, this means wetter-than-average conditions (read: more snow) for the East Coast.
According to an article on the NOAA website, Mike Halpert, deputy director of the NOAA's Climate Prediction Center, said that this El Niño could mean periods of very cold air temperatures as well as major snow storms for our area of the northeast. All the more reason to get your boards and skis ready and keep checking the weather forecasts!