WEST LONG BRANCH, N.J.–At the age of 22, Texan Jordan Spieth has already won two major championships and seven PGA Tour victories. Yet this does not seem to be enough for the young golfer. This past weekend, Spieth was on the brink of history, but unfortunately came across a few obstacles during the 80th Masters Championship.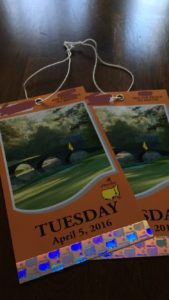 The Masters is a tradition unlike any other dating back to 1934. Flashing-forward to the next century in 2015, Spieth made history as a 21-year-old. He not only won the tournament by four strokes, but he led the entire tournament wire-to-wire.
A year later, Spieth was defending his title. Everyone thought he would come out with the green jacket again. After leading throughout all three rounds, Spieth threw a curve ball and hit his tee shot on the par-3, 12th hole, right in the water. With there being chances to overcome that obstacle, he mishit his next shot, putting another ball into the water. Watching with a pained grimace, Spieth dropped a third ball, lying four at that time. Hitting over the green into a bunker, he gracefully hit out and one putted–for a seven on a par-3.
What came next was something to remember, although the only thing most people remember from this Masters was Spieth's breakdown on the 12th hole. Spieth made par and two consecutive birdies, making it possible to birdie out and tie to go into a playoff. Unfortunately, it did not work out that way. A quadruple bogey on 12 sent his dreams on a second green jacket out the window.
In an interview on ASAP Sports following the completion of the tournament, Spieth responded very maturely despite the debacle. His statements reflect the type of winner and loser he is.
"I can't think of anybody else who may have had a tougher ceremony to experience," said Spieth. "Obviously happy for Danny. More important than golf, he's had a lot of really cool things happened in his life. Like he said, maybe fate had it this time for him. I certainly wanted to control fate, myself."
Despite losing the 2016 Masters, Spieth has earned over $24 million in his career and added another $880,000 for splitting a tie of second place. Most 22-year-olds struggle to make it out on a Thursday night for a couple of beers, whereas Spieth is rolling in dough.
https://www.youtube.com/watch?v=2hNBioMcTBU
Looking to take a step forward after the tough loss, Spieth is on the right track to do so. His maturity mirrors a tour veteran that ages far beyond 22.
Kyle Porter of CBS Sports commented, "He is thoughtful about his game and about what he wants you to know about his game. He is (along with dozens of other stars in golf) just generally thoughtful. It's a rarity among humans (much less athletes). And it's one of the many things to love about his future."
It might take a while to get out of the headspace Spieth was in and may still be in. There is no doubt he can make the comeback that so many golf fans want to see from him. Already winning the Masters and the U.S Open in the same year, there is still a lot left for Spieth to showcase to the world.