WEST LONG BRANCH, N.J.–The 2016 edition of "MLB: The Show" was released for PS3 and PS4 earlier this month, continuing its streak as the most popular baseball video game.
Since baseball has remained pretty consistent as a sport in recent years, those familiar with the MLB series will not see too many visible changes, but there are some subtle ones. For one, the graphics are still one of the best elements of the franchise. Everything down to the crease of uniforms, the logos of brand name equipment like cleats or gloves, and dust from the field are visible. Even the sun is included and can interfere with visibility when hitting or pitching. It all seems minor, but can be an important variable in playing and feeling like you're in the game.
The graphics of the players also add a level of realism to the game. The players' individual motions, unique gear choices, and tattoos can be seen in the game, so often that there is no doubt who which player is.
In addition to the quality graphics of the individual players, their attributes are represented in the game. With weekly updates, the players' progress (or regress) during the season will be reflected in gameplay. The attributes of the players are based on stats, so they may not actually represent the real-life attributes of the players. Because of this, some players may seem overrated or underrated. The system will always draw criticism, but in my opinion works well for the game.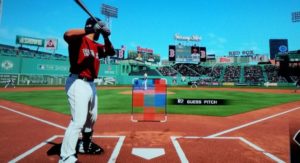 Perhaps the biggest addition to "Road to the Show," however, is the fact that players no longer need to go back to the home screen between every game. Instead of this, players have the option of immediately going to the next game. It seems like a small addition, but as far as speeding up the game and getting through seasons quicker goes, it makes up a lot of time.
"Diamond Dynasty" has also gotten the addition of two new game modes. The first is "Battle Royale," in which players draft a 25-man roster and compete head-to-head online in tournaments. Unlike traditional "Diamond Dynasty," all of these teams are equally matched and are not upgraded or switched out. Those who have played Madden's "Draft Champions" mode will be familiar with this.
The second new mode is "Conquest." In this mode, players take their teams and battle it out in tournaments around the country to be the champion of all regions. This game mode is just a more organized version of traditional "Diamond Dynasty."
The best part is that playing any mode will be a lot easier this time around.
"The load times in the game are a lot better in this year's games," said Chris Mott, a Monmouth senior who enjoys the game and has played it often since its release.
It seems "The Show" game servers have been improved to support more players and, as a result, the speed of loading between screens is much faster.
Overall, the game is a definite favorite, keeping in account recent years. Even with a few complaints here and there, including the fact that stubs in-game currency is still expensive, the new features are a welcome addition and the realistic graphics are as good as they've ever been.
https://www.youtube.com/watch?v=O3XWAcbjwJQ&feature=youtu.be