(The Verge) — An outbreak of bed bugs forced students of Fountain Gardens to new homes in early September.
Fountain Gardens is an off-campus apartment in Long Branch where many upperclassmen reside. The University rents these apartments from realty companies and provides Residential Life staff for the students.
"I didn't get bit by the bugs personally, but the two girls in the other room did," said Kristen Malm, a senior who was living in the affected apartment.
Some of the students living in Fountain Gardens noticed bites on their skin and contacted Residential Life to resolve the incident.
Initially, the students were sent to Pinewood Hall and hotels. "We're in separate apartments now which is not what we wanted for our senior year of college, but it's a comfortable living environment for all of us," according to Victoria Jordan, a senior who lived in the affected apartment.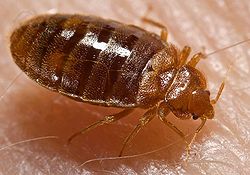 "The common bed bug (cimex lectularius) has long been a pest – feeding on blood, causing itchy bites and generally irritating their human hosts," according to epa.gov.
These bugs do not transmit disease, although, they can cause other health problems including allergic reactions, infections, anxiety and insomnia, said Centers for Disease Control and Prevention.
When a living situation occurs, the University provides single-person rooms for affected students, according to Raymond Gonzalez, Associate Director of Residential Life. "To the best of my knowledge, students were residing in these temporary rooms for no more than five days," he said.
The students and faculty expressed disagreements about the way the bed bug incident was handled.
Jordan said the process of moving out was long and interfered with her school and personal life. "It shouldn't have taken three weeks, or so, to listen to four girls that were getting eaten alive in their sleep," Jordan said.
"The whole situation was not something I thought I was going to have to deal with moving back to school," said Malm. "The process was exhausting and unsettling I'm glad it's finally over after weeks of dealing with it."
"I think that we worked very closely together with the management staff at the Fountain Gardens to address the situation as quickly and effectively as possible," said Gonzalez. He said Fountain Garden management was contacted immediately after Residential Life was notified.
According to Gonzalez the students were compensated for their laundry expenses. "The University will always work within its means and resources to assist students who encounter distressing situations in housing," he said.
Eric Mochnacz, Area Coordinator for Off-Campus and University-Sponsored Housing, manages all aspects of Residential Life and housing for students in Fountain Gardens. Fountain Gardens Management prepares the apartments prior to the students' arrival, while Residential Life is responsible for walkthroughs of each room to inspect that the rooms have been cleaned, Mochnacz said. Residential Life and the students involved were unable to provide information regarding Fountain Gardens' management.
Epa.gov said an accurate way to identify a possible infestation is to look for physical signs by checking for things like: spots on bedding, dark spots, eggs or eggshells, skins that the bugs shed as they grow, live bugs and reddish stains while cleaning the area.
The University was not notified about the bed bugs in Fountain Gardens. This situation was not reported to the campus community in order to respect the privacy of the students involved, and also because it only impacted two apartments off-campus and there was not a risk to other students, said Mochnacz.
There are no guarantees this situation will not occur again, Mochnacz said. "These types of things can occur when students return from traveling, shopping, the movies, or visiting any other highly populated area."
"The bugs were living in the walls-no question about it," said Jordan. She claimed that the bugs were not brought; rather, they were living in the apartments before she arrived. "The bites would've been happening at the other sites they provided for us to stay as well," Jordan said.
After the discovery of the bugs the apartments were cleaned thoroughly, said Mochnacz. "In collaboration with Facilities Management and Fountain Gardens Management, the University responded to students' reports as our protocol dictates."
"If this situation happened to me I would be very frustrated with having to move and would expect to be compensated for my inconvenience," said Brittney Lauro, a junior living in another off-campus apartment. "However, I would not hold the university completely responsible because I don't believe this type of situation is entirely their fault," Lauro said.