(The Verge)- What's up everyone? It's been a while since I last made my weekly NFL picks. There's been hurricanes, midterms, and other work standing in my way. I hope everyone is doing alright after the super storm Sandy hit New Jersey hard. If there's one thing besides family and friends that can help get us through a time like this, it's football. Here are my picks for Week 11.
Dolphins vs. Bills (Thursday, 8:20)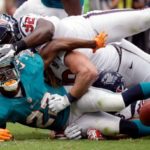 The Bills gave the Patriots a scare last week in Foxboro, nearly defeating the heavily favored opposition if it hadn't been for a boneheaded last second throw by quarterback Ryan Fitzpatrick. Fred Jackson was a huge factor in that game but is now out indefinitely with a concussion. The Dolphins are coming off a blowout loss to the lowly Titans while quarterback Ryan Tannehill was picked off 3 times. Reggie Bush has also fumbled 2 of his last 3 games. I think I'm going to trust the Bills to pull out a close one based on their surprisingly strong play last week. Watch out for CJ Spiller, he will be all over the field tonight.
My pick: Bills 24-20

Browns vs. Cowboys (Sunday, 1:00)
The Browns have simply had an ugly season. The lone bright spot has been Trent Richardson who has rushed for 575 yards and 5 touchdowns. The Cowboys, on the other hand, have been inconsistent all year. Tony Romo has elevated his game lately; throwing zero interceptions in 3 of his last 4 games. I fully expect Romo to play well enough to lead his team over the struggling Browns despite their inconsistencies. I predict he will throw for 3 touchdowns in this one.
My pick: Cowboys 27-17

Buccaneers vs. Panthers (Sunday, 1:00)
The Bucs have been the highest scoring team in the NFL over the last four games. Josh Freeman has been playing outstanding football to go along with Doug Martin's historical rushing performances. The ability to balance the run with the pass has kept the opposing defenses on their heels the whole game. The Panthers defense will be no different this Sunday. The Panthers have been one of the most penetrable defenses all year. Cam Newton is not the same quarterback he was last year, and will not produce enough points to keep up with these young Bucs.
My pick: Bucs 30-17

Bengals vs. Chiefs (Sunday, 1:00)
Both these teams are coming off surprisingly strong performances. The Bengals blew out the Giants while the Chiefs lost a heartbreaker in overtime against a formidable Steelers team. AJ Green of the Bengals has had at least one touchdown reception in every game this season but one. Would that be unfair for me to then predict at least one TD grab from Green this week? Give me a break. The Bengals impressed me too much against the Giants for me to pick against them. Plus, the Chiefs have only led in regulation once this entire season. I like my odds in this one.
My pick: Bengals 23-13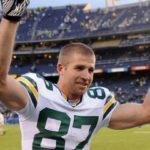 Packers vs. Lions (Sunday, 1:00)
Aaron Rodgers is certainly back to MVP form. With 25 touchdowns and only 5 interceptions, he could quite possibly be the leading MVP candidate again this year (sorry Peyton Manning). Now that Jordy Nelson is expected to return, I foresee a lot of points being scored by the Packers. The only concern is that they will be without Clay Matthews, and Calvin Johnson is coming off a 207 yard performance. I do not think it will matter too much. Rodgers in a dome=win almost every time.
My pick: Packers 31-23

Jaguars vs. Texans (Sunday, 1:00)
Unfortunately, I have nothing positive to say about the Jaguars this year. Maurice Jones Drew has already been ruled out this game, so I see no possibility of them pulling the upset against arguably the best team in the AFC. Arian Foster will certainly rush for over 100 yards on the day.
My pick: Texans 34-14

Jets vs. Rams (Sunday, 1:00)
If you want to hear my thoughts about Rex Ryan this season, come see me in person because I cannot possibly write them down without being banned from this site. Let's put it this way: While playing Nazi zombies, you unexpectedly obtain a ray gun (Tim Tebow) from the mystery box. However, you believe that you don't necessarily need the ray gun because you have a blind love for your pistol (Mark Sanchez). The result EVERY time equals death. I think you get the picture. Rex Ryan is still sporting his pistol today.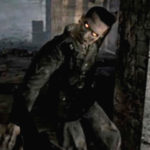 My pick: Rams 24-17

Eagles vs. Redskins (Sunday, 1:00)
I've got two words for Eagles fans. Nick. Foles. The Eagles new starting quarterback will get his chance against arguably the worst pass defense in the NFL; the Redskins. Foles was relatively successful against the tough Cowboys secondary last week throwing for over 200 yards and a score off the bench. I have supreme confidence in him Sunday. Jeremy Maclin seems to be his favorite target so expect a big game out of him. As for RGIII, I have a feeling he will have a big day, but ultimately fall short in the final seconds. The Eagles are playing for their coach this week. Sometimes that's too much for the opposition to handle.
My pick: Eagles 23-20

Cardinals vs. Falcons (Sunday, 1:00)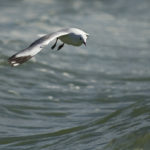 Ah, the battle of the birds. The Falcons finally lost for the first time this season last week against the Saints. The Cardinals, on the other hand, have made losing quite a habit after starting the season 4-0. It seems as if they resemble the image to your right lately. I'll take Matt Ryan and company this time. Watch out for Roddy White.
My pick: Falcons 30-20

Saints vs. Raiders (Sunday, 4:05)
Throw away the Saints record. They are still one of the best teams in the NFL. They just defeated the Falcons and have played the Packers close this year as well. Drew Brees is the #1 point scorer in ESPN Fantasy Football this year. The Raiders defense, unfortunately, is one of the lowest scoring defenses in fantasy football. The Raiders also are without Darren McFadden and their back-up Mike Goodson. I'm sorry Raiders fans, maybe next year.
My pick: Saints 34-24

Chargers vs. Broncos (Sunday, 4:25)
Philip Rivers is coming off a huge day against the Buccaneers. However, does anyone remember the last time Rivers faced the Broncos this year. I certainly do. In final seconds of the game, Rivers lost a fumble resulting in my fantasy team losing by 2 points that week. That was one of SIX turnovers Rivers committed that Monday night. Peyton Manning has taken care of the ball extremely well lately, and should have a field day at home against the fading Chargers.
My pick: Broncos 28-20

Colts vs. Patriots (Sunday, 4:25)
I think a lot of analysts are making this game seem like a tough one for the Patriots. I have to disagree. I'm not sold on Andrew Luck yet. He seems to struggle outside of his dome in Indianapolis. On the year he has only 2 touchdown passes in road games against 7 interceptions. It's going to be pretty cold in Foxboro this week, and I believe the rookie will struggle against an improved Patriots secondary. It's always nice to have Tom Brady on your team too.
My pick: Patriots 27-19

Ravens vs. Steelers (Sunday, 8:20)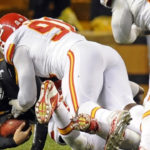 Just when you though the Ravens were becoming the most injured team in the NFL, the Steelers lose the biggest part of their team, Big Ben. It turns out Ben's rib injury could actually be a potential danger to his aorta. Ouch. I'm not too fond of him myself but I really wish him a speedy recovery. The Steelers, however, will not make a speedy recovery as a team against a tough division foe in primetime. Byron Leftwich won't save you now.
My Pick: Ravens 21-14

Bears vs. 49ers (Monday, 8:30)
What a great matchup on a Monday night. Unfortunately, both starting quarterbacks are questionable with concussions. These defenses are already tough enough on starting quarterbacks; how about on backup quarterbacks? The Bears have created the most turnovers by far this season and seem to have about 20 defenders on the field every play. Jay Cutler will most likely not play though; a scary thought for the Bears after watching their season slip away after Cutler went down with a thumb injury. I trust the 49ers backup Colin Kaepernick more than the Bears backup Jason Campbell if it were to come to that. Also, when in doubt, pick the home team.
My pick: 49ers 20-13

Enjoy the games Sunday everyone. Check back next week for more picks; and Happy Thanksgiving if you do not hear from me before then!