(The Verge)-Before the temperature dips down to an uncomfortably low number, and while leaves are still changing, is a great time to visit NYC for a crisp, cool, fall day trip. If you aren't chock full of ideas of what exactly to do to fully experience the splendor of outdoor NYC in autumn, give this fall day trip a shot.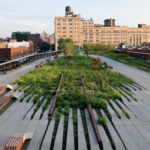 The High Line is a 1.45 mile long public park that was built on top of an old elevated freight railroad on the west side of Manhattan. According to the park's website, "The High Line was built in the 1930s, as part of a massive public-private infrastructure project called the West Side Improvement. It lifted freight traffic 30 feet in the air, removing dangerous trains from the streets of Manhattan's largest industrial district. No trains have run on the High Line since 1980."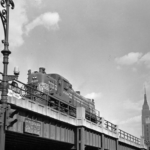 History of The Highline Video 
Once the trains stopped running the High Line became sort of an abandoned eyesore for local residents until it was restored and remade into a public park. The High Line is open 7:00am-10:00pm daily, runs from West 17th street to West 30th street, through the neighborhoods of Meatpacking, West Chelsea and Hell's Kitchen. There are multiple access points along the way.
The High Line is a NYC staple and on a nice fall day is perfect for strolling, jogging, or just chilling out on many of the parks green spaces or sitting areas. If you get hungry or thirsty while you're relaxing high up you can grab food or drinks at one of the parks partner food stands. While all of the food at the High Line is sure to please, after a long day of relaxation and outdoor enjoyment, a personal recommendation would be to finish out strong: walk down from the High Line at 16th street and visit arguably the best pizza place in New York-Artichoke Basille's Pizza in Chelsea.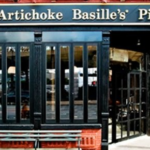 Why is Artichoke Pizza the best in NYC (at least in a large and growing number of New Yorkers opinions)? There are many reasons, but mainly it would be the incredible, unbelievably good pizza. So good, it probably deserves its own genre of cuisine.
The Chelsea location of Artichoke Pizza, at West 17th and 10th ave, also includes a full bar area, for those who are legal, which showcases a range of beers, wines and even margaritas. Then there is the pizza. Twice baked for the ultimate deliciousness, it comes in large pies, personal's, or by the slice. The most standard pizza's include the Margherita and Sicilian. Then there are the more bold choices including Burnt Anchovy, Crab and Meatball Parm. However, the signature "Artichoke" pizza is definitely the most popular choice among visitors. Consisting of artichoke hearts, spinach, cream sauce, mozzarella and pecorino romano cheese, it is unlike any pizza you will ever try! One slice is rather large and usually filling enough for one person-especially when getting washed down with a beer. Still, if you can handle it, strive to sample as many versions as you can.
Manager, Jeremy Kirchmer, explains why the establishment has such mass appeal, "Artichoke Pizza is a uniquely identifiable NYC foodie spot-with three locations around Manhattan, East Village, Chelsea and Greenwich Village, they are continuously cranking out slices of their various styles of pizza, the most popular being their signature, the spinach and artichoke pie. Each location has an established vibe, tap beer and slice counter service, but only does the Chelsea location offer a full bar and sit down style restaurant with a broader menu."
Because Artichoke and the High Line are on the west side, it isn't too long of a journey from Penn Station downtown which makes the Highline/Artichoke day trip a fun and easy idea for anyone at M.U. looking for an excursion outside of the shore.