(The Verge)- Ever have something in your hand one minute, and it's completely lost the next?  Well Jon Mitts invented a revolutionary solution, the "Stick-n-Find."
As corny as the name may sound, it's exactly what you think…kinda.  The Stick-n-Find consists of a Sticker, go figure, that you place on anything that's prone to be lost in the near future.  Once the sticker is on an object, you can locate it through the app on your Smart Phone!
This Sticker was designed to be about the size of a US quarter and equipped with enough Bluetooth Low Energy technology to track objects from up to 100 ft. away.  Once the Stick-n-Find is attached to an object, it can be tracked by an application on your Smart Phone which allows you to detect the distance between your phone and the Stick-n-find.
While on the Radar Screen, you can select which item you want to track and decide if you want the Sticker to flash, buzz, or both!  The application has the ability to track 20 stickers at a time, so go nuts!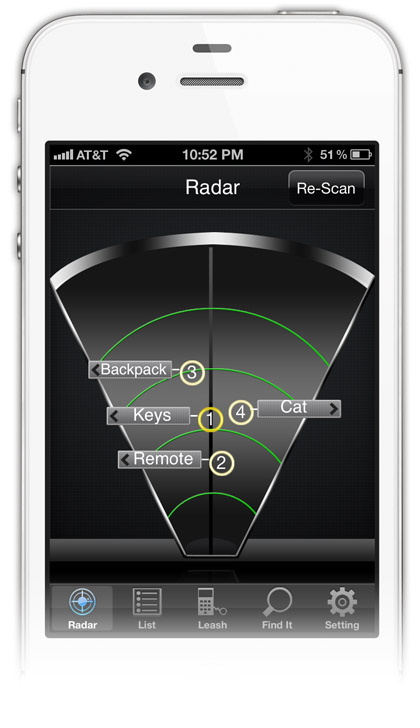 The Stick-n-find also has a feature called the "virtual leash," which enables you to be alerted when a certain Sticker moves further than a preselected distance from your phone.  This is perfect for your pets, children, or even if you want to keep tabs on your significant other.  You can even assign different alarm sounds to each Sticker.
In order for it to work, your smart phone needs to be equipped with Bluetooth 4.0 and newer.  Basically, iPhone 4s, iPhone 5, all the new iPads, and Android devices that support Bluetooth Low Energy.
This new gadget has been in the works for some time now; the only thing preventing production has been the financial funding.  The production company behind this small device has placed a goal of $70,000 on the public funding website, Indiegogo, and has already surpassed this amount by over $100,000.  What does that mean for us?  That means that the public will be able to purchase this innovative apparatus by March, 2013.