WEST LONG BRANCH, N.J. – At the age of three, a sun-tanned and dirty-faced boy named Chepe clung to the arms of strangers. As he laughed and played with our group in his donated, worn out clothes, he was unaware that small and yet significant seeds of hope were being planted in his home of Guatemala.
On March 14, 20 Monmouth University students, including myself, traveled to Guatemala to participate in community service in the town of Xepocol for seven days.
During our stay, we worked to eventually complete the roof of a school that started construction three years prior. We carried rebar (steel bars) up to the roof of the school, cut and tied wire around the steel, made and moved concrete, carried the concrete up to the roof, and shoveled until our hands were callused. We played with the kids, made jokes with each other, learned some Spanish, ate a lot of guacamole, and were sore and sun burnt most nights. However simple this may sound, it ultimately equated to extreme changes in the lives of the native Guatemalan people, as well as our own.
"The school we built was simple but was built on the basis of hope, which was our biggest contribution to the people of Guatemala," said Miguel Rios, a senior Health Studies Major at Monmouth.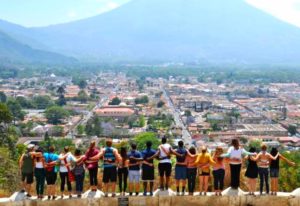 "Although we worked so hard, I had so much energy to keep going every day. Seeing how the classroom came to life thanks to our help was a great feeling and I am so happy to know that soon the children of Xepocol will benefit from this classroom that had been in the works for three years now," said Lixanya Lucas, a Monmouth senior and attendee.
Like Chepe, many children breathe the dusty air of the improvised towns in the country; some go to school for a few years, some do not. "What do you want to be when you grow up?" we asked a boy walking with his book bag, which was filled with some homework and flutes that he was required to sell. "A teacher of science," he responded. High hopes for a child who may have to quit school to provide for his family — selling hand-crafted flutes for prices much too low.
"Never have I come away from anything (as) impactful as this…. It's a truly a lesson in how to live your life. Despite your circumstances, as long as you have love and family, you will be okay," said Erin Hughes, another attendee and a sophomore Psychology Major.
"Poverty in Guatemala is both widespread and severe," according to The World Bank in 2011. "Approximately 75 percent of the population is estimated to live below the poverty line, which is defined as an income that is insufficient to purchase a basic basket of goods and services. Almost 58 percent of the population have incomes below the extreme poverty line, which is defined as the amount needed to purchase a basic basket of food."
As the days passed, we saw more and more of this poverty gratefully thrown in our faces. We visited a family's home. Standing at around 5'6″, I was about the same height as their little wood hut. With a sheet of metal as a roof, it looked as if it were a tree house on the ground. The family let us look inside, opening our world to the real face of poverty. Chepe stood smiling at the door of the hut, in front of a small bed shared between six children, with room for only a small dresser, overflowing with unwashed clothes. It was heartbreaking, to say the least.
I thought I knew poverty before that moment, but I was wrong. I know welfare and food stamps and charity donations, but that is only the beginning. These families live every day with a constant struggle to survive. "Will the rainstorm wash away my home; will we sell enough of our beautiful items in order to eat one meal; what will we do if the baby gets sick?" – they ask themselves. Conversely, I ask myself, "what can I do?"
A Reflective Journey and Some Wise Words
John F. Kennedy offered wise words in his 1961 inaugural address, where he stated, "To those people in the huts and villages of half the globe struggling to break the bonds of mass misery, we pledge our best efforts to help them help themselves, for whatever period is required — not because the Communists may be doing it, not because we seek their votes, but because it is right. If a free society cannot help the many who are poor, it cannot save the few who are rich." He continues, "All this will not be finished in the first one hundred days. Nor will it be finished in the first one thousand days; nor in the life of this Administration; nor even perhaps in our lifetime on this planet. But let us begin."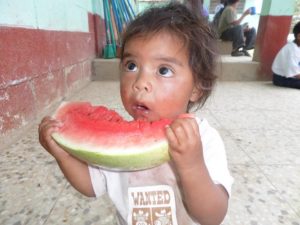 We have begun.
In three years, Monmouth students have completed a school that will help poor children learn in an environment close to their home. We have provided a face of hope, allowing them to see that the world is compassionate to their pain, and not only that, but we will be there to alleviate that pain in any way we can.
While in the country, we raised $500, enough to buy the struggling family food, new roofs, wood framing around their home, and a toilet, which they were lacking. Similarly, we met a family of 12 who was struggling mightily with marital rape and financial setbacks. Now, back at home, we are planning to fund-raise for them. We have only just begun.
"Although what we did might not have an immediate impact, we're changing the future of these children for generations to come. We were giving them an opportunity to make a better life for themselves and their families," said Dan Pizzimenti, a sophomore Business Major at Monmouth.
Some say these poverty stricken outsiders in our world do not know any better; like they are some animal that has no ability to recognize and comprehend their own misfortune, so there is no need to help. But they do need help, they do know their own struggles. They know the cheap shoes on their feet have been tearing through their skin, giving them blisters and sores every day; they know that if they get sick, at all, they may never get better; they know that schooling is available to those who do not need to work at a young age to survive; and they are aware of the many opportunities and luxuries we are so blind to in our own lives. Toilet paper, bedding, socks, underwear, soap, technology, food. We have it all, and they know.
I can still see them clearly. Their strong arms, dark skin, their veiny hands, and deep brown eyes. Strong in every way, they are – they have to be – and yet they are simultaneously so gentle. Their warm smiles, their kindness. One woman apologized for her inability to give us a gift to thank us for our work, but they are our gift.
"I will never go a day where I do not think of them and their appreciation of us, the want for us to be there, and the enjoyment they got from us. I will never go a day where I don't wish I could wake up in Xepocol ready to start my day and see them and play with them at recess," said Dylan Vargas, a junior Business Major.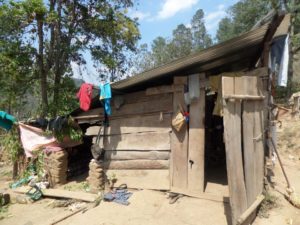 Understanding and appreciating our lives is a struggle, but when you are able to see the lives of those who still love, laugh and survive through extreme suffering, you are able to retrieve a new perspective. After being in Guatemala, we realized that by helping them, we are helping ourselves. We have gained a better appreciation of our own lives – our own luxuries. We have grown to feel empathetic toward those around the world. We have gained bonds we will never forget – bonds that will continue pushing us to make the world a better place for all.
"The best way to find yourself is to lose yourself in the service of others," Mahatma Gandhi once said.
Without saying a word, Chepe and his people gave us all something we mistakenly thought we had brought: hope.