WEST LONG BRANCH, NJ–Monmouth University's Study Abroad Office recently teamed up with its Global Education Office to take a trip to Monmouth Care Center, a nursing home in Long Branch, N.J.
Robyn Asaro, the Assistant Director of Study Abroad at Monmouth, was inspired to bring students to the home after visiting her father there and hearing about the lack of participation and interaction among residents. Asaro wanted to provide residents with an exciting activity that would bring them out of their shells.
Asaro, along with Administrative Assistant Jeanette Villanueva, got together a group of international students and two student employees from the office to take their first trip to Monmouth Care Center. The students spent the afternoon sharing stories about what it is like to grow up in another country, where they have traveled, and their experiences abroad. They offered pictures and snacks as well. The residents were very engaged in the conversation and even had some stories of their own to share.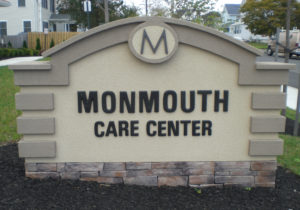 Taylor Cavanaugh, a study abroad student employee, said this trip was beneficial for everyone.
"Talking and being with the residents clearly impacted them for the better," she explained. "Unfortunately it is not uncommon for people to think that those in care centers aren't necessary or respondent enough to converse and interact with. The truth is they have great stories to tell and know more than most of the generations after them do."
Cavanaugh had the opportunity to learn from the residents, and bond with them about places they have traveled as well.
"One resident named Mildred told me she forgot she had been to Paris two times until she saw my pictures," she continued. "Other residents such as James conversed about Cadbury chocolate and other details from both his and my time in London."
This trip was an example of how the simplest of actions can have the biggest impact. The room in the nursing home was packed with residents who wanted to share travel experiences, learn from the students, and teach them some life lessons in return.
To keep the conversation going, Asaro would like to take weekly trips with students to Monmouth Care Center. If you are interested in attending, stop by the Monmouth University Study Abroad Office on the first floor of the Student Center or email Robyn Asaro at rasaro@monmouth.edu.