WEST LONG BRANCH, N.J. – On Saturday, December 3rd, Monmouth students traveled to New York City through the Student Activities Board's annual New York City bus trip. Students were charged $5 to take a bus into the city and were allowed to bring one guest per student for an extra fee of $10. The bus departed from the Student Center at 9 a.m. and arrived in the city at approximately 10:30 a.m.
The tickets for the trip included only the bus ride itself, allowing students to have a cheap, convenient, and comfortable mode of transportation for a day in the city, where they could participate in whatever activities they desired. Tickets went on sale Monday, November 14th at 10 a.m. The trip originally had only one bus booked, but it ended up being so popular that SAB created a wait-list for a potential second bus. Due to the overwhelming popularity, a second bus was booked so more students could attend. Tickets were on sale the entire week leading up to the trip.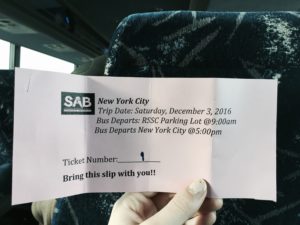 Many students went to the Rockefeller Center to see the monumental Christmas tree, which was put up just in time for the trip. Other students visited Bryant park to check out all of the different vendors there. Of course, all students made sure to do plenty of exploring around the city.
MU student Alexa Antonelli attended the trip for the second year in a row, as she said, "it's such a great price for a day in the city with friends."
Many students who went on the trip spent the duration getting in the holiday spirit. A large amount of sisters of Monmouth's Alpha Xi Delta sorority chapter were in attendance as well. Sister Tianna Fougeray said, "it was a lot of fun to get a group of us together to enjoy the city this time of year, right before finals!"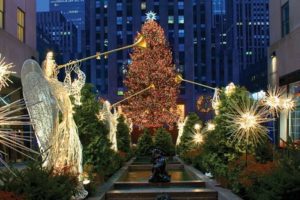 Students were told to be back at the bus for departure at 5 p.m. Unfortunately, some students got lost in the city, causing the second bus to have a later departure. While the first bus left shortly after 5 p.m. as scheduled, the second bus did not depart until approximately 6:30 p.m., leaving many students who were stuck on the second bus waiting for nearly an hour and a half.
Even with the long and unexpected wait, the trip was still a success and received positive feedback from most students who attended. The bus arrived back at the University at about 8:00 p.m., dropping tired students off after a long but exciting day.