WEST LONG BRANCH, N.J. – Hailee Steinfeld is fairly new in Hollywood but has already made quite a name for herself. With having catchy songs on the radio, and being an honorary member of Taylor Swift's squad, she has marked her territory on the celebrity scene. She has starred in movies like Ender's Game, Pitch Perfect 2, and, one of my personal favorites, Begin Again. Already, she has cultivated quite the resume since her recent step into the limelight.
However, her newest role in The Edge of Seventeen, wasn't as impressive. The film, written and directed by Kelly Fremon Craig, is about Nadine, a sarcastic and melodramatic 17-year-old that thinks the world is out to get her. A family tragedy sends the next four years of her life into a downward spiral. Her depression and social anxiety is fueled by her jealousy towards her older, more attractive and popular brother Darian, and by her strained relationship with her mother, Mona. However, her friendship with best friend Krista, and her teacher Mr. Bruner, keep her grounded and hopeful.



As we follow Nadine through the ups and downs of high school, I found myself growing more and more annoyed with her attitude. She is smart-mouthed and creates a façade that she's too cool to care but on the inside she is aching for acceptance. It was a challenging role, but Steinfeld plays it very well. On the other hand, Darian, played by Blake Jenner, Krista, played by Haley Lu Richardson, and Mona, played by Kyra Sedgwick, are essential characters in the story but all gave performances that weren't too convincing. The best performances are given by both Mr. Bruner, played by Woody Harrelson, and Erwin, played by Hayden Szeto. They are both comedic relief from Nadine's dramatic antics, and both actors provide a performance that is meaningful and refreshing.
A key aspect of this movie was the soundtrack. From the opening scene, rock music plays throughout, and each song worked in conjunction with the way the plot was unfolding. The film featured bands such as The Struts and their popular song "Ballroom Blitz", alongside many other rock and pop punk bands. While most of the music is upbeat and can be best described as emulating teen angst, in moments of character development, softer songs like "Big Jet Plane" by Angus and Julia Stone, and "Ghost in the Wind" by Birdy convey the mood.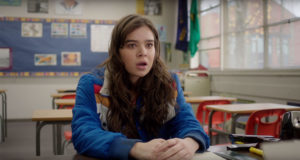 Ultimately, while there are some stellar performances, a great soundtrack, seamless editing by Tracey Wadmore-Smith, appropriate costume designs by Caria Hetland, and an overall clever and witty script by Kelly Fremon Craig, the filmed still seemed to be lacking something. It is hard for me to understand why Nadine was such a frustrating character and I think that the fact that I was annoyed with her for most of the movie made it hard for me to focus on the overall quality. The Edge of Seventeen is clever, albeit graphic in some of its language, and at times relatable, but it is not a movie I would want to see twice. Or once, for that matter.