WEST LONG BRANCH, N.J. – On Sunday, December 18th, WWE will hold its pay-per view event known as "Roadblock: End of the Line". It will take place in Pittsburgh, Pennsylvania and feature a bevy of intriguing matches that have been building up for quite some time now. In this article will preview the three most important matches by giving a quick background on the storyline as well as making a prediction on who will win.
Chris Jericho vs. Seth Rollins
This feud started a few weeks back when Rollins took on Kevin Owens for the WWE Universal Championship. Chris Jericho, who is Owens' "best friend," was banned from the ringside. However, at the end of the match, what looked to be a fan wearing a mask came from out of the crowd and starting beating up Rollins. When Rollins took off the mask, it was Jericho, who ended up distracting Rollins enough to get power-bombed by Owens onto the ring apron before eventually losing the match. One week later on Raw, Rollins got some revenge. As Jericho was set to leave the arena, Rollins showed up in the parking lot and started beating him down. He then pedigreed him on the roof of a car. Rollins has been on a mission to win back the Universal Title since he was gipped by WWE Chief Operating Officer Triple H a few months back. He claims his path to revenge starts with Jericho this Sunday at "Roadblock".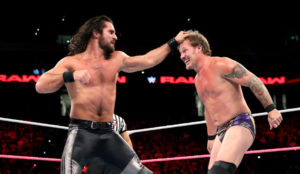 While Jericho has won over with the fans with to his ridiculously entertaining persona, I do not believe he can beat Rollins in this spot. WWE is building up Rollins to probably fight Triple H at a later pay-per view, and him losing to Jericho just would not make any sense here. There is also the possibility that Kevin Owens could interfere and screw his former best friend out of the match. Their relationship has been shaky at best lately, after Owens told Jericho to "shut up" on Raw a couple weeks back. Do not be surprised if Owens distracts Jericho long enough to get pedigreed for the three count.
Kevin Owens vs. Roman Reigns
This feud started after Survivor Series, as Owens and Jericho both blamed Roman Reigns for Team Raw's loss in the 10-man elimination match. Reigns would then question whether or not Owens could win without the help of his best friend. On the November 28th edition of Raw, Reigns beat Owens to become the number one contender for the Universal Championship.
This is a tricky match to gauge, as both guys have serious heat right now. Whoever wins, it seems as though a determined Seth Rollins will be waiting to reclaim the title. There are many ways this can go, as it seems like WWE loves to push Reigns whenever they can. It would not surprise anybody to see Jericho come down and cost his former best friend the championship, which would set up a fantastic feud for the two of them as we kick off Wrestlemania season in January. Owens is too good in the ring to lose clean to Reigns right now, so look for Jericho to interfere and ultimately screw Owens out of the title. Reigns has not been the champion for a while, and setting up a feud with Rollins will be a serious draw for the next few months.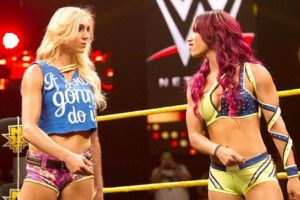 Sasha Banks vs. Charlotte
The matches these two have been putting on lately has revolutionized the women's division in the WWE. They have become the main event draw and have really captured fans' attention. At the "Hell In a Cell" pay-per view back in November, these two women made history as they competed in the first ever women's "Hell in a Cell" match. Charlotte got the better of Sasha that night, as she hit her with the signature "natural selection" move before pinning her down to retain her championship. To add insult to injury, this all took place in Boston, Massachusetts, which is Sasha's hometown. A few weeks later on Monday Night Raw, the two would clash again, this time in a "falls count anywhere", no disqualification match. After an absolute war, Sasha used the railing on the stairs to bend Charlotte's back in half before she finally was forced to tap out. All of this has led to the culmination this Sunday at Roadblock, as the two will make history yet again as they compete in a 30-minute "Iron Man Match". The winner of an Iron Man Match is the one who records the most falls in a 30-minute timeframe. There has never been a women's Iron Man Match before.
WWE is saying this will be the end of the Charlotte/Sasha feud, which is actually upsetting because they truly have been a marvel to watch. It seems like Sasha has the upper-hand right now, but Charlotte is the greatest women's wrestler, maybe ever, so I am leaning towards picking her to reclaim the Women's Championship. I do believe there will be multiple falls in this match, but ultimately, the queen will win 2-1 and take back her throne after another classic wrestling match.