WEST LONG BRANCH, N.J. – On Tuesday, January 31st, Monmouth students celebrated a belated Martin Luther King Jr. Day by dedicating time to community service and preserving Dr. King's important message.
From 11:30 a.m. until 2:30 p.m., students gathered in Anacon hall to make no-sew blankets, which were donated to a local homeless shelter for women and children. This event was co-sponsored by the O.W.L. Interest Group of Chi Upsilon Sigma National Latin Sorority, Inc., the Student Activities Board, and the Office of Student Activities. Afterward, a screening of the Netflix original 13th was held at 3:00 p.m. in Wilson Auditorium, with a post-film discussion featuring three speakers who had previously been incarcerated.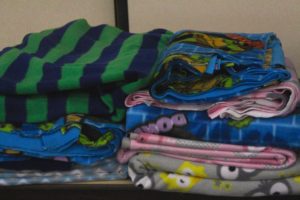 Crystalyn Espinal, Assistant Director of Student Activities, was the primary organizer for the event. When asked what inspired her to make no-sew blankets for a homeless shelter, she explained the need for an opportunity to give back that was "fun, easy, and time manageable" for busy college students. As incentive, the first twenty students to come by and help out were gifted a free t-shirt, and refreshments, including pizza, were served.
Additionally, the O.W.L. Interest Group were searching for a community service opportunity that would boost their visibility on campus, as they prepare to bring in the National Latin Sorority Chi Upsilon Sigma to the Monmouth University community next year. The full acronym, O.W.L.S. in C.U.S., stands for the Organization of Women Looking for Sisterhood in Chi Upsilon Sigma. According to their website, the sorority was created with aim to supplement "the void of three necessities: to service the community as well as fellow students, to open communications with all Rutgers University organizations," which is where the sorority was founded, and "to develop an educational, cultural, political, and social awareness amongst our Latino community".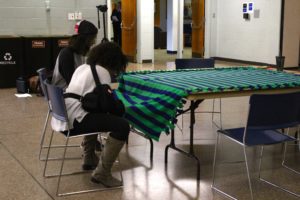 Chi Upsilon Sigma's official national philanthropy is the I Have a Dream Foundation, an organization founded in 1986 by Eugene M. Lang that works to help under privileged students gain access to a valuable education, and the funds for attending university. The foundation is what inspired the University's O.W.L. group to host this event in honor of Dr. King.
When giving back to the community becomes as simple and gratifying as tying together fuzzy blankets, it is almost impossible not to participate. More community service events honoring Dr. King and promoting the I Have a Dream Foundation will be coming to Monmouth in the fall, when the O.W.L.s cement their own chapter of Chi Upsilon Sigma here on campus.
https://www.youtube.com/watch?v=ooVk9g2MoKg&feature=youtu.be